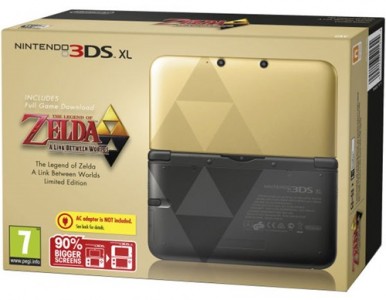 Recently it was announced that a special edition The Legend of Zelda: A Link Between Worlds 3DS XL bundle was coming to Europe. Yesterday, it was also revealed that it would be coming to Australia exclusively through EB Games. Now it appears that the same bundle will be coming to the United States after Gamestop's Black Friday circular leaked earlier today.
This special edition 3DS XL is gold colored and features a Triforce design. The version in Europe even comes with a special treasure chest for preorders that makes the sound from the games when Link opens a chest.
The leaked Black Friday ad for Gamestop shows the 3DS XL bundle for $219.99. Since this bundle has not been officially announced, we don't know if this is a sale price just for the ad, or if it's at retail in this ad. We should find more about that in the near future and will report on it as soon as it becomes official.