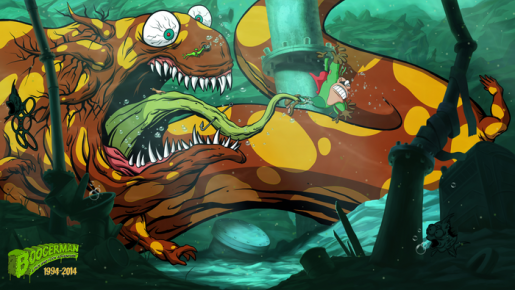 Some gamers who grew up in the 90's very well may remember this game, because I know I sure do. Interplay was most famous for the Clayfighter series, but there was also quite a fun and crazy game known as Boogerman, which is actually on the Wii's Virtual Console right now. He also cameoed in Clay Fighter 64 1/3 alongside Earthworm Jim.
Now the original creators have banded together at Toy Ghost to start a Kickstarter in hopes of making a new Boogerman game for PlayStation 4, Xbox One, Wii U, PC, Mac, Linux, and PS Vita. The goal is to make this new game for the 20th anniversary of the gross and hilarious game. You can view the Kickstarter page and donate right here.
While the Kickstarter launched a few days ago, an additional extra for backers was added in the form of a special co-op mode that adds Earthworm Jim to the game. This mode requires a $40 donation, but you will also be able to donate less for now and if the campaign is successful, you can add on to your donation after to get the special Earthworm Jim co-op mode.
The total so far is very far from the goal, so I'm hoping it picks up with more media exposure soon. The Kickstarter has 26 days remaining and is at $26,734 at this time. The goal for the game is $375,000. This is much less than the Mighty No. 9 campaign that was easily fulfilled last month, so hopefully this picks up very soon. As with the Mighty No. 9, we will keep you updated on this campaign as it goes on.