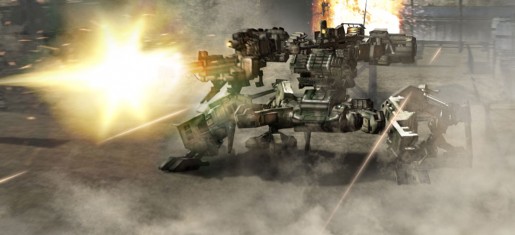 Not
Graphics
Verdict Day is almost shockingly poor graphically, with obviously low-poly terrain and muddy textures filling your view. If the art style were better these issues wouldn't be so noticeable, but almost everything is a drab shade of grey or brown, with even most muzzle flash being underwhelming. The game tries to convey a strongly post-apocalyptic look but that doesn't mean that the scenery needs to be so un-interesting, as games like Fallout have proved.
The ACs themselves generally look pretty good and can bring some much needed color to the screen if you so choose but when you're fighting over yet another drab grey cityscape or drab brown ravine that isn't enough to keep the game visually interesting.
User Interface
This latest outing for the series suffers from the overly complicated and difficult to read interface which will be familiar to fans, both in and out of battles. The absurdly convoluted menus definitely hurts your first impression of the game and take a great deal of getting used to, but they do at least function and let you access pretty much everything you'd ever want to once you get used to them.
The in-battle user interface is by default fairly minimalist, which is generally a good thing. Unfortunately all of the information that it does show is in and around a circle in the center of the screen, ideally placed to block much of the player's view of the enemies that you're firing at. While you can disable most of the heads-up display a better designed interface which provides you with all the information in an easy to read manner would help immensely while learning the game.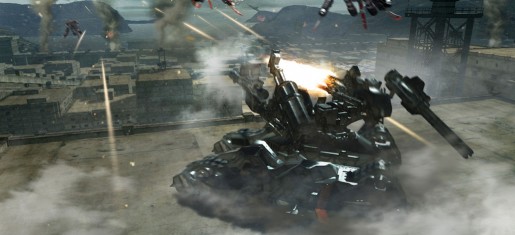 Poorly Explained
As a newcomer to the franchise, it took me a long time to even begin to understand what was going on in the game. The initial tutorial was extremely brief and poorly explained only the most basic of gameplay concerns. To have any grasp of the more detailed concepts you will need to spend time reading the virtual manual.
An improved gameplay tutorial and another to go over some of the intricacies of mech customization would have gone a long way towards making Verdict Day more approachable for those new to the series; as it stands the first few hours of gameplay is a frustrating experience.
Verdict
Armored Core Verdict Day is a traditional entry into the series, offering some incremental improvements to a proven formula while making no allowances for new players. If you enjoyed Armored Core V then Verdict Day will be a worthwhile purchase for you, if not then it's much harder to recommend and is only a good buy if you don't mind the long hours of learning all of the many systems before the game becomes fun.
[Editor's Note: Armored Core: Verdict Day was reviewed on the PlayStation 3 platform and was provided by the publisher for review purposes]
Armored Core: Verdict Day Review

,