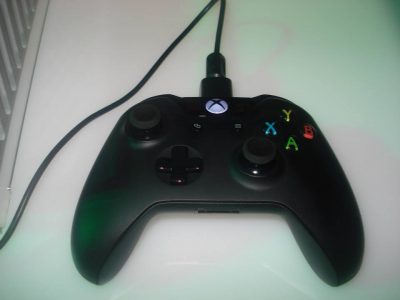 I had a chance to play on the Xbox One controller for the first time. How does the new controller feel like?
Many people regard the Xbox 360 controller to be one of the nest controllers ever made. Sure some people will disagree, but I would have to say it's a pretty darn good controller to hold. Microsoft says they made over 40 improvements to the Xbox One controller. I must say, they are not wrong about that.
The first thing I noticed about the Xbox One controller immediately is that it's very light. It's lighter than the Xbox 360 controller and definitely lighter than the PS4's DUALSHOCK 4 controller. This is good news for those that hate bulky controllers. We all know how huge the original Xbox controller was…
Much like Sony did with the DUALSHOCK 4, Microsoft made the triggers better too. I did not have a problem with the Xbox 360 triggers, but the Xbox One triggers feel softer and better to press. The triggers are wider and easier on your fingers. Playing Forza 5 was comfortable throughout.
The face buttons also feel softer too. Sometimes if I'm playing a fighting game, my hands would hurt slightly while playing on the Xbox 360 controller of I was playing for hours. Playing Killer Instinct and mashing the buttons was not so painful. I did not play the game for hours, but I'm sure my fingers wouldn't feel so numb.
Not much has changed in terms of the analog sticks, but these were perfect on the Xbox 360 anyway. The left and right bumpers are bigger though, which is an improvement too. Other than that, the Xbox One controller isn't too much of a big change which is a good thing. The improvements however are noticeable since the buttons are bigger and much softer to press overall.
The Xbox One console releases in 13 countries from November 22nd.