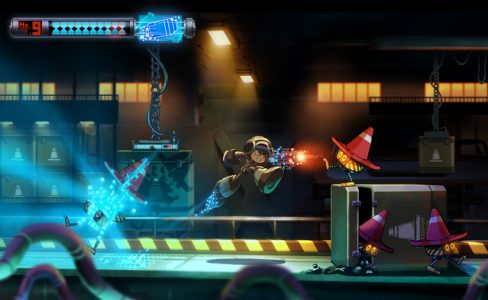 As we told you last week, Keiji Inafune, creator of Mega Man, launched a Kickstarter to fund his next project known as Mighty No. 9. The Kickstarter was launched on August 31, and as of this writing, has received $2,244,486 in funding from 39,167 backers. As a result, the game has reached a stretch goal that is the one I was most hoping for, a console release on Xbox 360, Playstation 3, and Wii U.
By hitting the $2,200,000 mark, the console release stretch mark was reached. This is huge for non-PC gamers that are dying to play the next Keiji Inafune title when it is estimated to be released in 2015. The game was already planned for PCs, but now having it available on four systems when it comes out will help the game find success even more.
Mighty No. 9 is considered to be a spiritual successor to the Mega Man series due to many aspects such as the look of the protagonist Beck to the style of bosses that give you weapons or abilities upon their defeat. With the Mega Man series sitting on ice at this point, this is the closest we will likely get for some time outside of his appearance in the next Super Smash Bros.
The next few stretch goals are manageable at $2,400,000 and $2,550,000, but it will be hard to reach the highest listed one at $3,300,000 for a Xbox One and Playstation 4 version unless the pledges pick up again.