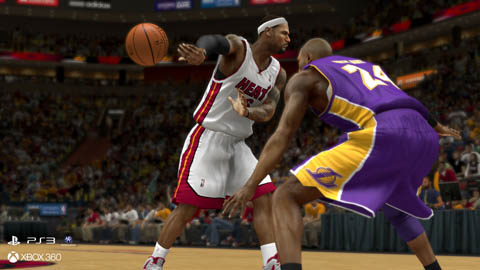 One of the most exciting features for the upcoming NBA 2K14 is the return of a very popular mode in the past known as Crews mode. Crews mode allows you to join with friends online in a pick-up style game. The one controversial aspect is the change to a more casual style as the games are just played outside on blacktop instead of inside an arena.
This mode will feature 3-on-3 half-court and 5-on-5 full court games that are each played to 21 points. In this mode you will be able to create custom logos and jerseys for your crew. You can create your own player and join friends or invite friends to your own crew. Player fatigue will be a major factor to make the mode even more realistic according to 2K Sports. If your crew has a player that is struggling, you can release that player from your team. If your entire team is struggling and just want to scrap it, you have that option as well.
There will also be a leaderboard for Crews mode so you can keep up with how others in the community are performing with their individual crews. This is a neat aspect for the most competitive of gamers.
NBA 2K14 will be available on October 1 for Xbox 360, Playstation 3, and PC with a release on next generation consoles coming at their respective launches.