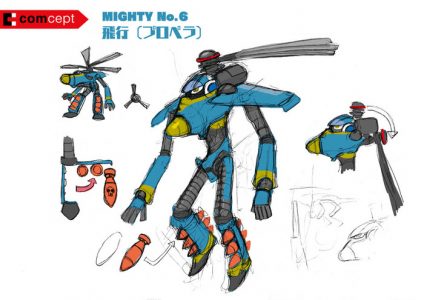 As we've brought you over the last few weeks, the Mighty No. 9 Kickstarter has been a major success. Coming from Mega Man creator Keiji Inafune, fans of the blue bomber flocked to this idea of a spiritual successor to the Mega Man franchise with Capcom seemingly keeping the series on ice right now. We are happy to report that the campaign has now reached even more stretch goals beyond the last one we told you about.
The initial funding requirements for the Mighty No. 9 project was $900,000, but that has been surpassed by a large amount. Last week, the Kickstarter had reached the $2,200,000 stretch goal to allow for console releases on Xbox 360, Playstation 3, and Wii U. At that time, it looked like the next few stretch goals would be possible to achieve and now they have. By reaching the $2,400,000 mark over the last week, the game will now have a Challenge Mode. However, that is not all, as we have also surpassed the $2,550,000 stretch goal. This means we will now be getting an extra end stage and boss.
At this time, the total number of money pledged is $2,673,119 with four days remaining. While I doubt it will happen with so little time left, I really do hope we can get to the $2,900,000 mark that will give us an intro stage and boss. This would harken back to the Mega Man X franchise, a favorite of mine. Prior to that, there is one other goal at the $2,750,000 mark that will add a Beck & Call Online Co-op Challenge Mode. There are three goals in the $3 million range, which seem more unreachable with so little time remaining. Check out the Kickstarter page for Mighty No. 9 if you wish to see these other goals, more detailed information on the project, or to donate.