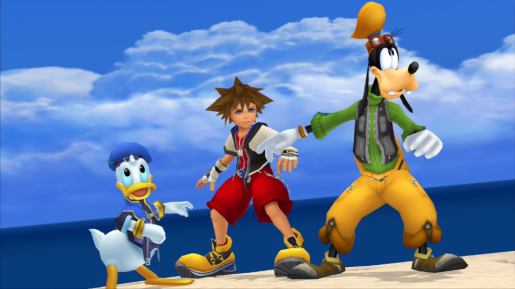 Three-in-One
One of the best aspects of Kingdom Hearts HD 1.5 Remix is the fact that you are getting the most bang for your buck. The game itself only costs $39.99, and you are getting a completely remastered Kingdom Hearts and Kingdom Hearts Re:Chain of Memories, along with a collection of remastered cutscenes from Kingdom Hearts 358/2 Days. The two actual games in the collection are no slouches in length either. Kingdom Hearts has an abundance of content that will keep you busy for quite awhile. Re:Chain of Memories gives you a decent length campaign with Sora, but upon finishing the game, you get almost an entirely separate game where you play as Riku. The cutscenes from 358/2 Days adds another three hours or so to the overall game as well. It is also very simple to switch between the three separate games inside the collection. While playing any of the three titles, all you have to do is hit L1+L2+R1+R2+Start+Select to do a soft reset to return to that specific game's menu. From there you can choose the Back option to return to the main menu to choose another game. Some game collections really screw this up, so it was nice to see them get it right.
NOT
358/2 Days Letdown
I know that I am one of the few that actually quite enjoyed the original Kingdom Hearts 358/2 Days, including both the story and gameplay, so I was quite disappointed at first when I heard that we weren't getting a full version of the actual game on this release. However, when I heard more about the way it was going to be done, I was glad to see that we would be getting what I thought was going to be like a three hour or so movie of the events of the game. I thought that is what we would be getting until I put the game in and tried it out.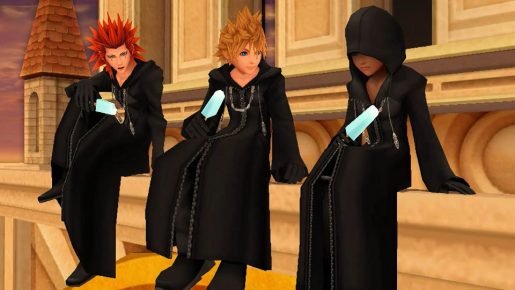 Of course the graphics look great on the cutscenes, but they did not make very many new scenes, but instead just put text up on the screen each day explaining what would have happened on the mission itself in the original game. If this was at least narrated it could have helped, but it's just a screen that you must read. I was especially disappointed not to see a recreated cutscene of the final two battles in the game. Those would have been fantastic to see, and to not get them really made me wish we had gotten a port of the original game instead once again.
VERDICT
Considering that the Kingdom Hearts franchise is one of my favorite game series of all time, there was not much surprise that I enjoyed Kingdom Hearts HD 1.5 ReMIX. Unlike some HD collections in the past, the game did not suffer from bugs that could ruin the experience. The remastered graphics looked beautiful and really improved upon the already solid originals. Being able to play the Final Mix version of the original game was a great experience that I was not sure I'd ever actually get the chance to do. While the Kingdom Hearts 358/2 Days part of the game was kind of a letdown, it was still enjoyable enough to watch the remastered cutscenes and hear the return of some of my favorite voice actors in the game like Jesse McCartney and Quinton Flynn in newly voice acted sections. Overall I had a ton of fun reliving some games from one of my favorite franchises, with enough additions to make it well worth your while. At a cost of $39.99, this is a must own game for Kingdom Hearts fans, while also being a great entryway for new fans to try out the series. All I know is that I can't wait for hopefully a Kingdom Hearts HD 2.5 and of course Kingdom Hearts III.
Kingdom Hearts HD 1.5 ReMIX (PS3) Review

,