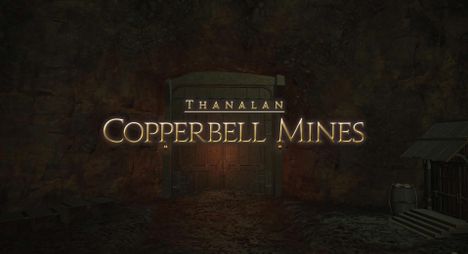 Abandoned once purged of ore, Copperbell Mines lay untouched for nigh on three centuries until Amajina & Sons Mineral Concern reclaimed the shaft–the guild's sights set on expanding the mines downward in an attempt to tap yet undiscovered veins of valuable metal. Unfortunately, it was not riches the powder kegs uncovered, but sheer terror, for when the smoke cleared, out poured an army of raging giants from the darkest recesses of the mines. The hecatoncheires–thralls of the lost Thorne Dynasty–were, at last, free from their lightless prison, three hundred years of hate fueling their madness.
Level: 17 (Sync from 19)
Overview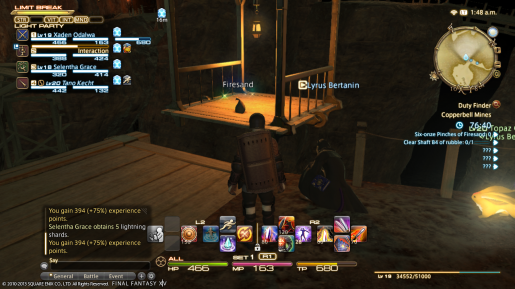 -Compared to the first two dungeons, Copperbell Mines requires a little more strategy and thinking to make it through.
-Start the dungeon by moving forward and fighting an abundance of enemies Copperbell Coblyns and Spriggan Copper Coppers. In fact, you will see more Spriggans in this dungeon than anything else. Just have your tank get their attention and take them down group by group. Take any lifts that you come across, but make sure to have the entire group inside before taking it or someone can get left behind and require someone to go back to get them.
-The first mission takes awhile to achieve, "Clear Shaft B4 rubble." As you make your way through the dungeon, keep an eye out for something known as Firesand that you can pick up. After a decent amount of time fighting your way through the dungeon, you will reach an area in the dungeon where it looks like you cannot advance. Look around for a Blasting Device, which should have more Firesand somewhere near. You will need to pick up two pieces of FireSand total. Now interact with the nearby Powder Chamber, followed by the Blasting Device to clear a path to continue. This will open a room to your first mini-boss.
-Keep moving forward into the dungeon and you will eventually reach your next mission "Clear Shaft E1 of rubble." This is done in the same way as the last. Once you do this, you will be able to fight the second mini-boss. Right after this, you will have to utilize another Blasting Device to complete the mission "Arrive in Shaft E2."
-Continue onward and fight groups of Errant Souls and Living Fossils mostly. You will also run across Hecatoncheir Stonehaulers, which you just have to pound hard and make sure you keep a tank on them. Before too long you will find the final boss of Copperbell Mines.
Kottos the Gigas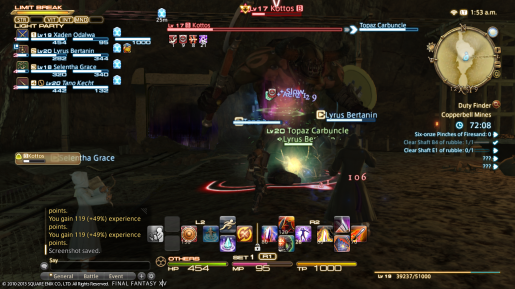 -This mini-boss fight will start just fighting waves of Spriggans. This should be very easy so just keep hitting them until the real mini-boss arrives.
-Once Kottos joins the fight, the tank has to get his attention right away and make sure that they face him away from the group. Keep hitting him hard and watch out for any Bombs that appear during the fight. Take them out quickly and then focus on taking out Kottos. Definitely the easiest boss fight in Copperbell Mines.
Ichorous Fire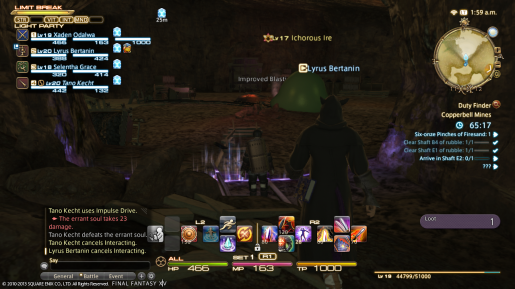 -Ichorous Fire actually requires some thinking and strategy to take out. You won't be able to damage him directly, so keep an eye out for Spriggans that show up during the fight. Destroy them to get Blasting Powder that can be put in the Powder Chamber. Then use the Improved Blasting Device to spawn a Blasting Cap.
=Get the Blasting Cap as close to the Ichorous Ire as you can to make sure that Ichorous Ire is in the blast radius when it self destructs. This will cause the Ichorous Ire to split into two separate entities.
-You must make sure you are not in the blast radius yourself or you will be killed instantly.
-Follow the exact same steps once again to get the ooze to split into four separate entities.
-Do the same process one last time to get it split into eight pieces and at this point your team can take down the creature as per usual fights. It shouldn't take very long at this point. This mini-boss isn't overly hard, but might take you a couple times if you don't pick up what to do quickly enough.
Gyges the Great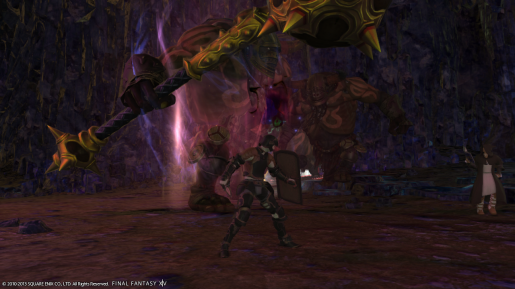 -After the last fight where you had to think, the final boss of the dungeon is a little more straightforward. Start the fight by going after Gyges, with the tank keeping his attention. Keep hitting him until Gyges goes and breaks a wall, which is unavoidable. Keep up the fighting, with the tank facing away from the party to keep them safe from the bigger attacks like Colossal Slam.
-After Gyges breaks open the wall, Stone Servants will begin to join the battle, but they will go and specifically start to attack another wall. Try to take them down as quickly as you can once they arrive. If you do not stop them quick enough, they will break down the wall and waves of Spriggans will join the fight, which makes it much harder.
-Otherwise just keep taking down the Stone Servants when they appear and inbetween hit Gyges over and over. Before long Gyges will be no more and you will have conquered the Copperbell Mines.
We'll continue to add more guides for Final Fantasy XIV! Look for the Final Fantasy XIV Game Guide</