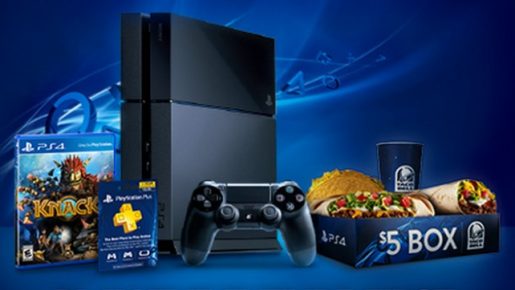 Sony Computer Entertainment America announced today that they have partnered with Taco Bell for the "Play the Future First" promotion prior to the launch of the PlayStation 4. This follows a very similar promotion that was done in early 2012 with the launch of the PlayStation Vita.
The promotion will run from September 26 to November 10, while giving customers a chance to win a PlayStation 4 prior to its launch on November 15. You will be able to enter by texting a code found inside one of the PlayStation 4 branded $5 Buck Box or Big Box meals. The prize is a PlayStation 4 prize pack that will include the console, the launch title Knack, and a year of PlayStation Plus.
Our fans enjoy gaming, and gamers eat Taco Bell, so teaming up with PlayStation for the second consecutive year to give consumers first access to the next generation system before it hits retail was an exciting decision for us. We strive to give our customers a little more, each and every day, in everything we do. Through the 'Play the Future First' promotion, we are delivering on our promise to Live Más – and now play más – with a gaming experience like no other.
The specific boxes with codes are only available while supplies last.