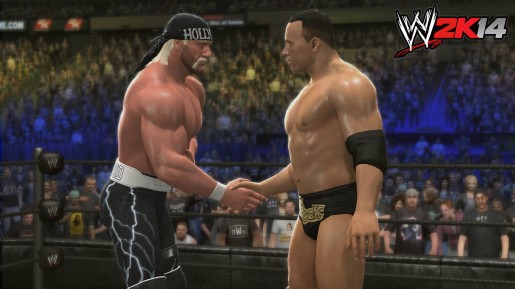 2K Games has now announced the WWE 2K14 roster that will be a part of the "WrestleMania Mode".
Bear in mind, this is not the full roster for WWE 2K14. More of the roster should be announced in the coming weeks leading up to the game's release on October 29th.
The following wrestlers have been announced so far. Sadly, Kurt Angle is not in the game, but Goldberg makes his first WWE video gaming apperance since 2003's Here Comes the Pain.
Check out the updated roster for WWE 2K14 below:
Alberto Del Rio
Andre the Giant
Batista
Big John Stud
Big Show
Big Show (Retro)
Bret Hart
Brock Lesnar
Brock Lesnar (Retro)
Chris Jericho
Chris Jericho (Retro)
CM Punk
Diesel
Edge
Goldberg
Hulk Hogan
'Hollywood' Hulk Hogan
JBL
John Cena
John Cena (Retro)
Kane (Retro)
King Kong Bundy
Mick Foley
Randy Orton
'Macho Man' Randy Savage
Razor Ramon
Ric Flair
Ric Flair (Retro)
Ricky Steamboat
Sergeant Slaughter
Shawn Michaels
Shawn Michaels (Retro)
'Stone Cold' Steve Austin
Ted DiBiase
The Miz
The Rock
The Rock (Retro)
Triple H
Triple H (Retro)
Ultimate Warrior
Undertaker
Undertaker (Retro)
Yokozuna