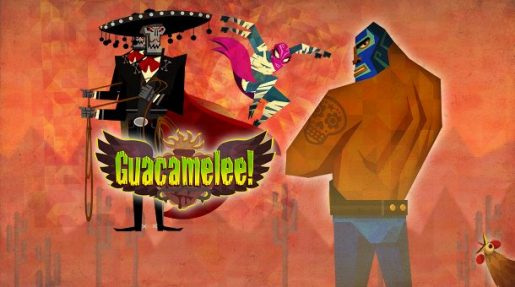 After releasing on PlayStation 3 and Vita back in April, Guacamelee (the Mexican styled action platformer) has finally been released for PC. Drinkbox Studios has bundled the downloadable content with the base game to create the Guacamelee! Gold Edition and offers gamers melee combat over different dimensions and platform elements. Will the Luchador win over fans or will he receive boos from the crowds?
Let's find out and kick off the HOTs and NOTs.
HOTs
Polished Presentation and Design
Guacamelee gets gamers straight into the mood for the title with the incredible use of colours help create a light-hearted atmosphere. The sharp vibrant areas have clearly been well polished. Due to this exploring and roaming around the open world is a pleasure. Whilst many titles sending players back and forth would become tedious it is a nod to the high standard of both level design and visual style that players will continue to be entertained. The character animations are equally as crisp as the rest of the graphical style. Combat moves flow from one to another but are still quick and sharp enough to look powerful. As a result, the combat sections look extremely impressive despite being chaotic. The non-linear design allows players to discover things at their own rate with new moves opening new paths where gold is often awaiting players.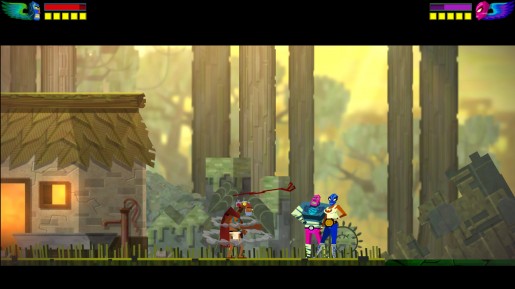 Awesome Combat
Guacamelee shines when it comes to the hand-to-hand combat. Starting off having just claimed the Luchador mask the main character only has a basic kick and punch. Throughout the journey, players unlock other moves and powerful attacks including an uppercut, the ability to throw enemies, a head butt and more. They all enable players to put together devastating combos, forcing enemies into the air before throwing them into the ground or other incoming units. As the game goes on these moves such as the uppercut are colour codes and must be used against certain enemies to break the barrier around them. This adds another aspect to the fast paced combat as players have to think about which moves and combos they are using.
Entertaining Plot and Characters
There is a great balance between developing a story and comedy in the games dialogue and cut-scenes. Whilst players aren't saving a princess they are in search of El Presidente's daughter and they are 'another castle' references. Guacamelee doesn't exactly take itself seriously and rightly so. It has a comical almost cheeky feel to some of the dialogue sections with fun clearly never leaving the writers mind. All of the characters have their own unique identity helping generate the storyline. A fan favourite is bound to be the Lord of all Man-Goats a rather unique 'man' that almost always teaches the main character a new skill; he's rather helpful for an angry goat.
Guacamelee! Gold Edition Review

,