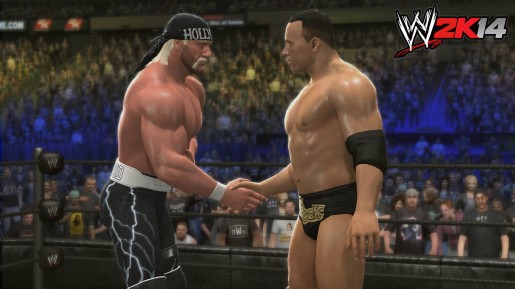 2K Games has announced a special event happening at SummerSlam Axxess that will reveal the WWE 2K14 roster and show more gameplay footage.
All of the festivities will occur from August 16th – August 18th from Los Angeles for SummerSlam Axxess. Don't worry if you're not in the USA because 2K Sports will be live streaming all of the events online for the world to see. You will be able to watch the events listed below via 2K Games' Twitch channel by clicking here.
Check out all of the details about the event below:
WWE 2K14 Gameplay Livestream Friday, August 16 at 12 p.m. PDT
* Senior Game Designer Bryan Williams and Interactive Marketing Manager Aubrey Sitterson walk you through full WWE 2K14 matches
* Highlights new and improved gameplay elements like OMG Moments, Catching Finishers, the new reversal system and more
WWE 2K14 30 Years of WrestleMania Roster Reveal Saturday, August 17 at 12:30 p.m. PDT
* WWE Hall of Famer Jim Ross, WWE Hall of Famer Jerry "The King" Lawler and WWE Superstar Damien Sandow reveal the full 30 Years of WrestleMania roster in-ring at SummerSlam Axxess
WWE 2K14 30 Years of WrestleMania Symposium Saturday, August 17 at 6:45 p.m. PDT
* WWE Superstars and Legends take a look back at some of their favorite WrestleMania moments. – Rob Van Dam noted on Twitter that he will be appearing at WWE NXT TV tapings in September.