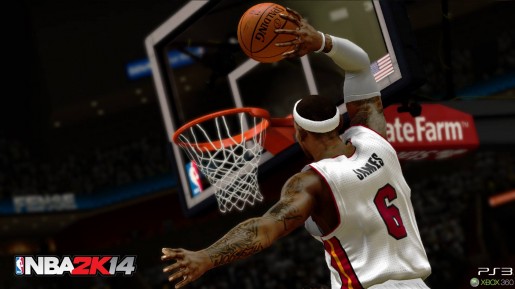 The team behind NBA 2K14 took to their official Facebook page today to show off all of the features in the current generation version of the game for Xbox 360 and Playstation 3, as well as the PC version, some which are returning and others that are brand new to the series.
It has already been stated that there would be some overlap between the features in both versions of the game, but 2K Sports has only announced the features in the current-gen versions for now. Some of these may carry over to next-gen while others will be exclusive to this version. The game will see the return of the much requested Crews mode, which is essentially the game's version of clans where you can team up and play against crews in 5 on 5 matchups. This feature will be only in the Xbox 360 and Playstation 3 versions. The game will also include what is now a staple of the series, Dynamic Living Rosters that update player and team stats based on how they are currently playing in the season. MyTEAM will return as well with new player modes, tournaments, and more.
A completely new feature to NBA 2K14 is the addition of 14 of the top Euroleague teams, which will feature authentic uniforms and players. The game will also introduce six new Signature Skills, as well as new animations for jump shots, dunk and layup packages, dribble moves, free throws, pregame intros, getbacks, and celebrations to make the players even more like their real life counterparts. The game also introduces new advancements with dribbling that will allow for better 1-to-1 control of the ball.
NBA 2K14 will be available for Xbox 360, Playstation 3, and PC on October 1 with at launch with both Xbox One and Playstation 4. A new video for the returning Crews mode that was released by 2K Sports can be seen below: