Make your own music
Project Diva F also features a fully featured editing suite to compose your own levels and share them with the world. A full assortment of tools are available to write your own desired music for the vocaloids to sing, either by using the in-game tracks or an MP3 on your hard drive. Everything from lyrics to camera positioning to the notes flying across the screen is at your fingertips if you're creative enough. These tools may seem intimidating at first glance, but many of the tools are simple enough yet still time consuming. For obvious reasons, songs that use a custom MP3 can be uploaded to the server but the actual track used won't be shared online.
NOT
Visual overload
One of the cooler features to Project Diva F is the inclusion of a full performance by your own custom vocaloid running in the background, which unfortunately leads to one of the more troubling problems with the game. When compared to titles like DJ Max Technika Tune that manage to have a constant established note path and presentation playing on top of a music video, Project Diva F feels a bit chaotic. Notes sail in from every direction towards their matching notes. That means that while not only contending with the ongoing video running on screen, you'll also have to content with flying notes, trying to see which corresponding note they're going to land on, and lastly waiting for that rotating timer icon to match up. All of this can lead to a sensory overload that can easily cause a string of missed notes in a single blink.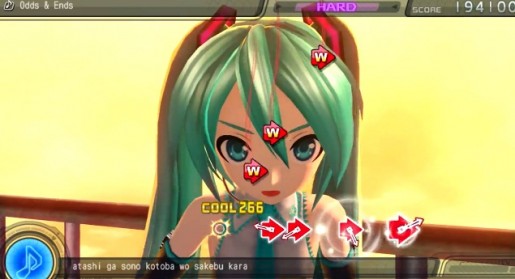 Tuned tracklist
Players picking up Project Diva F for the first time may be put off with the single note of the tracklist. A rhythm game with only one artist? Why that's no different than The Beatles: Rock Band, some might say. While the tracklist isn't quote as robust as other rhythm games on the market, Project Diva F is certainly in tune with the fans that know exactly what they want. Each of the composers feel like masters of working vocaloids and creating such unique melodies with a purely synthetic singer. If I had one complaint about the music selection, it would be the exclusion of an option to include English lyrics of some sort in the subtitles. The Romanji lyrics work well for authenticity sake or for players that want to sing along, but not knowing just what Miku's singing about may put some players off.
VERDICT
Hatsune Miku: Project Diva F is one of those rare games that primarily caters to a certain demographic of gamer. If you can name at least one vocaloids or have a favorite song from Supercell, you already know to pick this one up. If that's not your style, Project Diva F is still one of the more colorful and spirited rhythm games on the market. If you can hold a beat and want to expand your cultural tastes with something uniquely Japanese, Project Diva F is well worth giving a spin.
[Editor's Note: Hatsune Miku: Project Diva F was reviewed on the PlayStation 3 platform. The game was provided to us by the publisher for review purposes.]
Hatsune Miku: Project Diva F Review

,