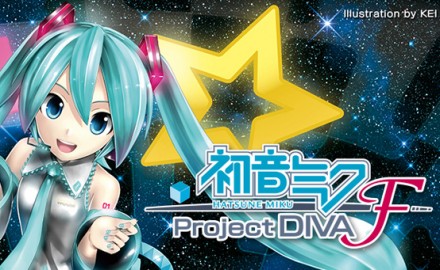 Hatsune Miku, the famous Japanese digital pop star seen all over the internet and Hot Topic shirts, has finally made her way stateside with her first American video game release. In Hatsune Miku: Project Diva F, players get to tap their way through over 35 tracks sung by not only Miku herself, but five other synthesized vocaloids in their native tongue of Japanese. Will players be able to enjoy Miku's lyrical stylings, or is Project Diva F lost in translation?
HOT
Catchy tunes
If you've been aware of Hatsune Miku's presence on the internet, chances are you've heard her synthpop songs on some viral video (Nyan Cat, for example). Project Diva F, as the fifth entry in the Project Diva series, exists as a greatest hits compilation from her previous titles with six new tracks exclusive to F. Popular Niconico artists such as OSTER Project and ryo lend their music talents to help round out Miku's tracklist. While many of the tracks are fast-paced Japanese pop, there are a number of slower and more melodic tunes to give Project Diva F a diverse selection. One of my personal favorites would have to be World's End Dance Hall, especially on the higher difficulties due to its tempo and whimsical beat.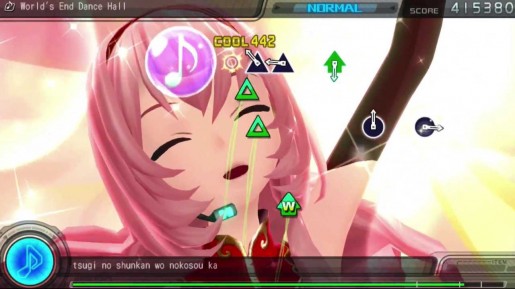 Rhythmic gameplay
The sole thing that can make or break a rhythm game is how it controls. While not as neat and confined as other tapping games, Project Diva F has its own unique style to gameplay. As the vocaloids sing and dance their hearts out, notes will appear across the entire screen in clusters, each with a rotating clock hand atop the symbol. A second pair of notes will fly from across the screen while those hands rotate around. By matching the two symbols together with a button press, timing on that rotating clock hand will dictate the accuracy. Hitting the right notes when the clock hands point to 12 o'clock will result in a Cool, Project Diva F's modest version of a Perfect timing. Anything less may result in a Good or Safe, the latter of which results in a broken combo just like a Bad or Awful timing. On some of the higher difficulty songs, some notes will be matched with a corresponding directional arrow. Thankfully, there aren't any unusual combinations such as tapping the left arrow in time with triangle.
A new note type brought exclusively to Project Diva F are star notes. Instead of any sort of button press, players will need to flick either of the analog sticks in time with the beat. I personally found this note type to be overly distracting, especially during more technical songs where streams of directional notes and star notes alternate in intricate patterns. There is an option before each song to remap the star notes to one of the shoulder buttons, making them a bit more manageable at least.
Pop-idol simulation
When not singing and dancing through one of Diva F's many catchy tunes, the vocaloids spend their time relaxing in their own little worlds. As players progress through the tracklist on four difficulties, Diva Points will be accumulated in large quantities, especially on the harder modes. Diva Points consist as the sole currency in Project Diva F and can be used on anything from costumes for the vocaloids or furnishing their individual rooms. These furnishings can range from gifts of food to gag props including an oversized Hachune Miku doll that's sure to be lost on most players. By offering these gifts and room furnishings to the vocaloids, you'll raise their affection in small skits which in turn unlocks more gifts to purchase. When not in a gift giving mood, you can have some one-on-one time with any vocaloid of your choosing. Give them three affectionate pats on the head to unlock a little rock-paper-scissors minigame that's a requirement for one of the trophies.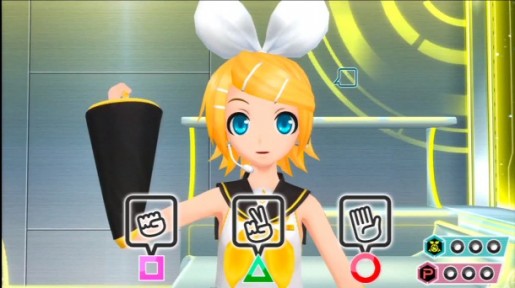 Taking a page from the idolm@ster series, Project Diva F also features a fairly limited idol watching mode. In one of a few select songs, you can watch your chosen vocaloid perform a personal little concert in the outfit of your choosing. Sadly, the only control a player has during these concerts is selecting which camera angle to watch from. All of the available songs are also to watch in their original entirety through an included theatre mode for those that want to enjoy the music without being distracted by actually playing the songs.
Hatsune Miku: Project Diva F Review

,