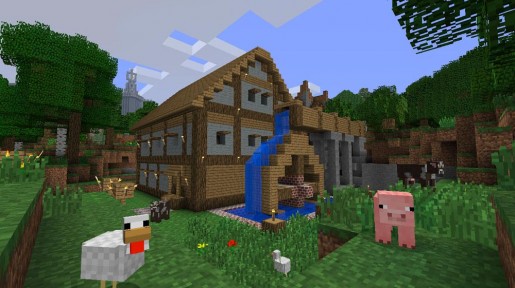 The popular indie game Minecraft is finally making its way to a Sony platform. In very surprising news during the Sony conference at Gamescom, it was announced that Minecraft will be a launch title for the console, that we now know will be released on November 15. The game will also be releasing on Playstation 3 and Vita according to Minecraft's creator, Markus Persson, on his Twitter page.
The popular game first appeared on PC in 2009 as a free title to play. This was followed by a release on Android and iOS later in the year. This eventually led to a release on Xbox 360 as an Xbox Live Arcade game in May 2012. Just a couple months ago it received a retail release for the Xbox 360 as well.
This news comes as somewhat unsurprising, but at the same time kind of surprising. The unsurprising part is that the game will be coming to another platform like the Playstation 4, which makes sense as the game keeps growing and growing. The surprising part is that it will be coming to the Playstation 4 at launch, but not until later on the Xbox One, the first console it was available on after its initial PC and mobile device run. With the money making monster that is Minecraft, there is no doubt this will be a big seller for the Playstation 4.
Minecraft for Playstation 4 will be available on November 15 with the release of the new console. There is no word on when the Playstation 3 or Vita versions will hit at this time.