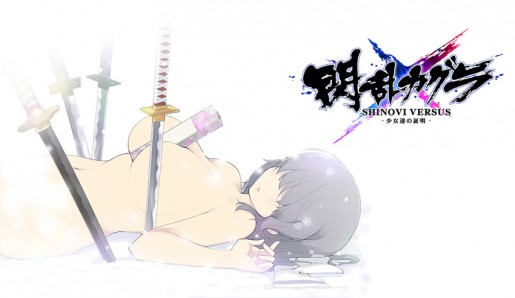 XSeeD (whose logo looks like a Japanese vibrator on a completely unrelated note), has so far made no announcements of wishing to bring the Japanese jiggly ninja action series to the West, either through the action game for 3DS or the Dynasty Warriors-esque slasher for Vita. As fans can expect, this decision is largely because of not only the hypersexuality of the ladies portrayed in these games, but also their legal age. Senran Kagura Shinovi Versus for the Vita sadly falls into this category in more ways than one.
Games with sexuality are really nothing new to the industry, but they always seem to spark controversy from the mass media even when the addition of sexual content helps to advance the story, rather than just the main character looking for a good time (case in point: Kratos, the God of War).
Below is a direct copy of one such XSeeD employee's stance on the matter posted on their tumblr. This long editorial was in response to an article on The Wired Fish Network regarding XSeeD being interested in localizing the series but deciding not to based upon 'cultural differences'.  Many of their points are extremely valid, especially with those consider the ages of characters in the Senran Kagura universe. It's not like they can just say every girl is eighteen and call it a day, right?
I'm an XSEED employee who really likes Senran Kagura. I liked it enough to watch the anime, I'm going to buy the manga when it comes out in English, and I pre-ordered Senran Kagura: Shinovi Versus' Limited Edition and played the game (gotta love region-free!). I love how blatantly honest and upfront Takaki-san, the game's Producer, is about his intentions and find it refreshing. I'd probably become a giddy mess if I met the guy since I'm a fan.

This all doesn't mean it's suddenly rainbows.

As a company, we're not scared of sexualization; we're scared of the sexualization of 15-year-olds as a focal point, which is a valid concern to have. And, unlike what this article claims, that's always been a concern with Senran Kagura. It's not new, and it wasn't in light of Dragon's Crown (in fact, I'm all for the Dragon's Crown design, and most employee reactions range from "Those boobs look silly when they move" to "Whatever"). No, not all characters are 15— In Shinovi Versus for example, a few are 18-year-olds and even a few in their twenties— but those 15-17 year-olds getting the same extreme exposure, no matter how developed their bodies are, is super scary for a publisher. Like, damn, have you seen Shiki's costume? It's like an S&M Grim Reaper! And Minori manages to fetishize to big breasts and age-play at the same time. Both at fifteen. Not that either outfit matters, they get reduced to band-aid pasties and panties in no time.

ESRB was created so that parents could judge the content of what their child is playing. They're a powerful force. Senran Kagura is made for adult audiences (which kind of sort of makes the sexualization of super young women even worse), but when things become scary, it becomes scary because of parents. I don't think anyone realizes how powerful of a force they can be when they think something panders to the wrong crowd. You can't compare Senran Kagura's sexualization to say, the sex portions of God of War. It's a whole different field.

It may sound defensive, coming from my position, but please take it as me trying to explain more beyond this article: there is nothing prudish about being hesitant from both a business and moral perspective about a series like this. And this is coming from someone that likes the franchise! Are the games fun? Don't know about Burst since I don't own a Japanese 3DS, but I had a blast playing Versus. The gameplay is a lot of fun. I like the characters, I like the art, and for me it's a hilarious parody, but not every mother and father is going to look at a title like this and see  the characters- they're going to see 15-year-olds almost naked outside of hairy dildos and band-aid pasties. And that's probably the right and natural reaction.

Luckily, in comparison to the Vita game, Burst is small potatoes. But still, this kind of "Obviously companies are scared of sex!" thing isn't quite accurate and that should be known. Breast size and sexulization are not necessarily the problem.

Have you played our title Corpse Party? I'd argue it's a lot worse than Senran Kagura. One of our newest titles, KILLER IS DEAD, literally has a parody mini-game where you can wear glasses to see through women's clothes to their sexy (and varied) lingerie, all while you stare into their boobs and crotch area to seduce them. Way of the Samurai 4 actually had Night-Crawling, where you could hit on women, be invited to sneak into their home at night, then role-play with them before banging them (you could also accidentally run into any male and female character in the game on the way and bang them instead). Not to mention the three sisters who got off on torturing you, and if you  got through enough rounds of their torture sessions you could bang them too.

What made these 'safer' choices? Well, it's sexulization of adult characters in KILLER IS DEAD's case. Way of the Samurai 4 has an adult cast and you can't hit on children (save for Laura, but let's not talk about that and thankfully it's a very difficult, optional thing to accomplish and more implied than anything), and Corpse Party used it as an element of fear, which was the focal point –not hardcore sexulization of underage girls, which is the focal point of Senran Kagura.

To wrap this up because I've spoken too long- I'm sorry to make such a long post!- the point I'm attempting to make clear are several things about XSEED and Senran Kagura that this article does not point out. I hope someday we do get a chance to localize Burst since I'm a fan, but I can understand why it's scary, and most should.