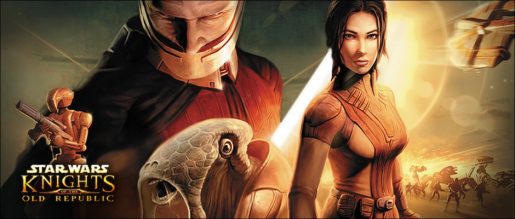 On July 15th, KOTOR will be celebrating its 10th year anniversary and BioWare has plans to celebrate it through their MMO, SWTOR.
Since SWTOR is the sequel to the highly acclaimed Knights of the Old Republic, players of the said MMO will have an opportunity to purchase an in-game item through the Cartel Market for just one day, July 15th. For 10 Cartel Coins, which is around ten cents, players of the MMO will be able to purchase a very rare in-game title called, "Revan's Heir". Those who are expecting more KOTOR inspired items will be disappointed as the in-game title is the only thing BioWare plans to give out in celebration of the series' tenth year anniversary.
A blog from BioWare Creative Director, James Ohlen, where he talks about KOTOR and how it helped set the stage for making Star Wars™: The Old Republic™.
A brand new title "Revan's Heir" coming to the Cartel Market for only 24 hours at the low price of 10 Cartel Coins! (July 15 2AM CT to July 16 2AM CT)
Cartel Coin giveaways throughout the day on the official Star Wars: The Old Republic Facebook Page.
In addition, BioWare will also be giving out Cartel Coins all day on July 15th through their Facebook page.