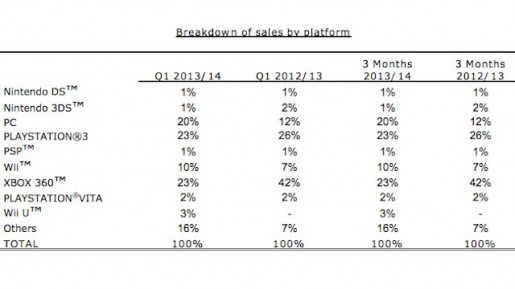 A chart (posted by Kotaku) shows the percentage of games Ubisoft has sold per platform. It looks like the Wii U has struggled during the first half of 2013.
The big hitters for Ubisoft are the PC, PS3 and Xbox 360. Sales per platform accounted for 20%, 23% and 23% respectively for the three aforementioned platforms. The original Wii accounted for 10% of sales.
The Wii U is sadly on the lower end of the spectrum with only 3% of Ubisoft sales. This is the main reason why ZombiU is not getting a sequel and Ubisoft is hesitant to release another Wii U exclusive game.
Unlike other publishers however, Ubisoft is still releasing a number of other games for the Wii U that are not exclusive. This includes Splinter Cell Blacklist, Assassin's Creed IV: Black Flag, Watch Dogs and many more.