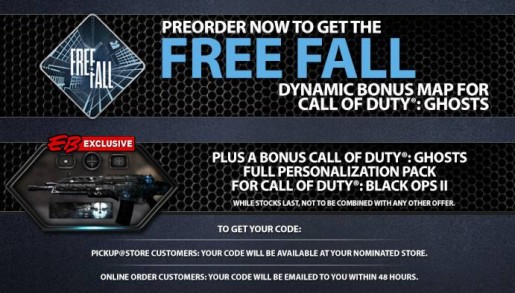 EB Games has revealed on its official Facebook page extra DLC items you get by pre-ordering Call of Duty: Ghosts.
Here's what they announced:
Have you got Call of Duty Ghosts preorder yet?

If you have, you have just been automatically up graded to the new EB Games exclusive personalisation pack.

– Ghosts Camo weapon skin
– 3 Ghost Themed Reticules
– Call of Duty Ghosts calling card
Not only do you get the extra map, but items that will allow you to customize your weapons in the game too.
All of these items will be available if you pre-order Call of Duty: Ghosts for the PS3, Xbox 360, PC, Xbox One and PS4. These items are an EB Games exclusive. The online codes will be given to you both in-store or emailed to you if you buy the game online.