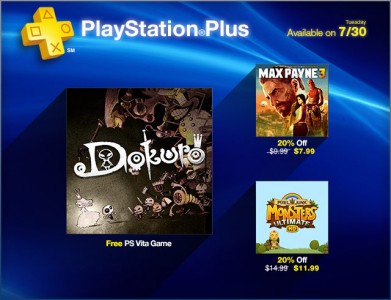 When the PlayStation Store updates tomorrow, PlayStation Plus subscribers will have an opportunity to download another free game; Dokuro for the PS Vita.
For discounted games and/or downloadable contents for this week, the standard edition of Max Payne 3 will be available for $9.99 tomorrow, while the Ultimate edition with all of the DLCs will cost $11.99. With the release of PixelJunk Monsters HD tomorrow for the PlayStation Vita, subscribers can take advantage and purchase the game for $11.99, instead of the original $15 price.
Check back with us this week for our review of PixelJunk Monsters HD for the PS Vita. A quick reminder – this week is your last chance to download Battlefield 3!