TACTICS
Most RTS titles nowadays focus on a commitment to a preconceived strategy; Company of Heroes 2 is not that type of game. This game is all about tactics and clever play. Each unit has unique abilities that must be utilized intelligently to succeed, making each and every mission success a joy unlike anything you're bound to feel while playing a game. Beating a mission in a game like Star Craft 2 is fun, but taking down that tank that's been harassing your troops in Company of Heroes 2 is invigorating. The game can be brutally difficult, requiring a level of micromanagement skills few of us can comprehend, but that only aids in making every success all the more satisfying. Unfortunately, a large portion of the campaign hamstrings you so much in unit availability and mission structure that it's almost easier to continuously spawn units in to accomplish some objectives, which really detracts from the tactical appeal of the gameplay. That being said, the campaign really ramps up, and will challenge your inner tactician, as will the invigorating multiplayer.
Theater of War
The Theater of War mode in Company of Heroes 2 is where I found the most enjoyment. The mode puts you in different scenarios, both single player and cooperative, and have you compete for high scores. The scenarios entertaining and variable, from timed survival missions to unique mission objectives that bring the type of creativity and uniqueness the campaign lacked at points. I won't spoil them here, but trust me, these missions really are a blast to play, and a few of them will really push you to your intellectual limits at higher difficulties. Beating these missions grants small unlockable rewards ranging from the cosmetic to actual gameplay bonuses. None of the bonuses seem game-breaking, and it's a neat idea to reward players for their accomplishments beyond just skin variations.
NOT
Campaign Presentation
First of all, let me say the story in Company of Heroes 2 is not bad. It is a bit jarring at first to play from the perspective of the Red Army after playing as the plucky, yet heroic, Americans in the original game, but the change in setting allows for a mature tale from perhaps the most gruesome theater of any war in human history.  That being said, it's all presented in a way that leaves a lot to be desired. The cut-scenes look like they came straight out of the beginning of this generation, and lack any of the emotive animations we've seen from a plethora of titles over the past few years.  It all just falls really flat, and makes the whole story feel like a missed opportunity. The narrative behind the presentation is quite well-written, so the fact that the execution misses as it does is a real disappointment.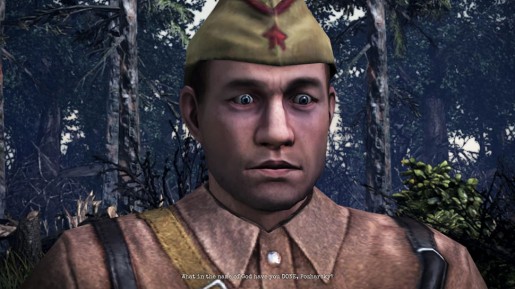 Multiplayer Not Friendly to Newcomers
If you haven't played the original Company of Heroes, then be prepared to be frustrated with its sequel. There really isn't a proper primer for the multiplayer making the barrier to entry quite high for those with no experience. The campaign puts you in a lot of scripted scenarios that limit you in some way, or have you tackle objectives contrary to those you'd find in multiplayer. In general, the campaign is slower, often smaller, and more limited than the multiplayer, making the tactical intellectual challenge of the multiplayer seem, well…too challenging. It's just a shame that Relic didn't include some sort of introduction for newcomers into the multiplayer, because the experience really is so rewarding.
Verdict
It would be easy to critique Company of Heroes 2 for resembling the original to such an extent, but it's hard to hold that against it.  The original Company of Heroes was a landmark in the genre that innovated in virtually every aspect of its design, so being compared to such a title is still a great accomplishment. Sure, Company of Heroes 2 is not as revolutionary as the original, but it didn't need to be in order to be great. If you're looking for the next revolutionary RTS title, keep looking. I'll be off playing Company of Heroes 2.
[Editor's Note: Company of Heroes 2 was reviewed on the PC platform. The game was provided to us by the publisher for review purposes.]
Company of Heroes 2 (PC) Review

,