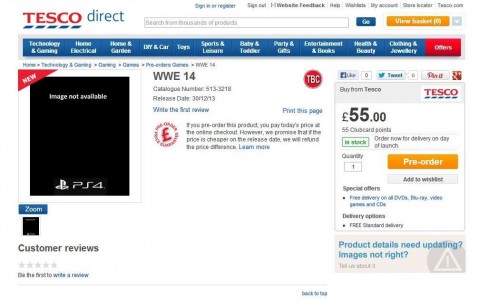 2K Sports have only announced so far that WWE 2K14 will only be released for the PS3 and Xbox 360. However, a UK retailer has now listed the game for PS4 and Xbox One.
The UK retailer is called Tesco direct and they list WWE 2K14 being available on PS3, Xbox One and PS4. The next generation versions of the game cost 55 pounds.
Obviously take this as a rumor for now since the website is still calling the game "WWE '14". Not to mention they did not even bother to list an Xbox 360 version of WWE 2K14 either…
There is some validity that the new game will be out on PS4 and Xbox One. This is because 2K Sports plans to release NBA 2K14 on next generation consoles. It wouldn't make sense if 2K Sports left the WWE brand on current consoles only.