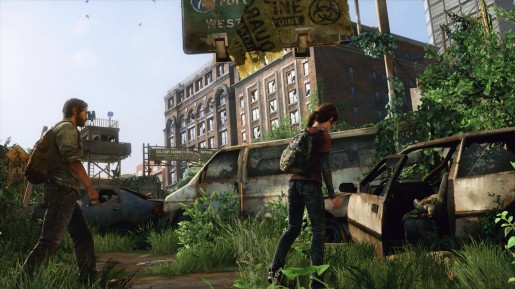 The Last of Us is Naughty Dog's next big PS3 game after releasing three excellent Uncharted titles. Although the game has zombies in it, it's one of the few games/movies out there that isn't set in a drab and dark environment. The Last of Us is instead a game that is just as beautiful as any of Naughty Dog's previous games.
This is the impression I got when I first laid eyes on the game. I've played numerous PS3 and Xbox 360 titles over the past few years, but The Last of Us just might be the best looking console game I've ever seen. I wasn't sure if Naughty Dog would have been able to improve on the graphics of the Uncharted games, but they've managed to exceed themselves. It will be very exciting to see what a Naughty Dog PS4 game looks like!
The preview I played (that was available in New Zealand at the time) only featured two levels. There was no introduction to the characters so I'm still not sure what the relationship between Joel and Ellie is. Even though you control Joel all of the time, Ellie is a great A.I. partner and isn't dumb. She will help you out at times and will even tell you where to go. I remember getting lost but she called out to me and said to "come here".
This brings me to another point I loved about the game. The Last of Us does not feature a waypoint that tells you where exactly is to go all of the time. With most modern video games, I feel there's too much "hand-holding" involved as they tell you where to go all of the time. This game forces you to explore and seek out answers yourself which games it less linear.
One example of this was when Joel and Ellie needed to cross over some rooftops. They are human so they cannot jump several meters in the air like other video game characters. The game didn't explicitly tell you how to cross the rooftops and it is up to the player to find out the solution. It took me several minutes until I found out that Joel can pick up a wooden plank and place it over the rooftops to walk across. It's small gameplay elements like this that make The Last of Us a "smarter" game that most shooting titles out there.
The combat is similar to that of the Uncharted games, although things are a little bit harder. You have a lifebar in this game so you cannot go all out guns blazing like you can in other games. It's also worth mentioning that ammo is scarce so you cannot shoot enemies all of the time either. The trick to succeeding in this game is to know when to attack or when to run away. You're not forced to kill every enemy you see or else you'll run out of ammo and weapons for sure. Joel can also stealthily kill enemies too if you skilled enough to do so.
There are some similarities between The Last of Us and the Dead Island games. You have to find items and weapons and make use of what you have. You don't have an abundance of ammo all of the time so you will need to find other types of weapons other than guns to fight back. This makes the game more exciting since there are too many "shooting" style titles out there anyway.
My playthrough was very brief, but I came away every excited for what the full game has in store. The game is challenging, but it's not too hard to make you feel too frustrated. It's also worth mentioning (again) that the graphics are simply stunning.
The Last of Us is released worldwide exclusively for the PS3 from June 14th.