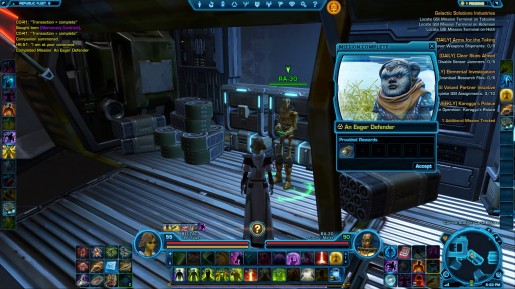 When SWTOR Game Update 2.3 launches this August, one of the things you can expect aside from new flashpoints is a new companion that you can add in your team.
Following the release of HK-51 several months ago, BioWare has finally decided to add another species in the growing companion list that you have. This time, it's an Ewok that you can get by meeting certain conditions. To those who have been playing the game for a long time, you will be able to be the first ones to get the companion as it requires to have a legacy of level 40 at least. If you have the legacy level requirement, you can buy the Mercenary Contract item for one million credits that allows you to get the Ewok from the Droid in the Fleet.
The Ewok companion is a healer and will give you a bonus of +5 mission efficiency and +1 critical in crafting. Unfortunately, we don't know yet much about the new Ewok companion but we managed to give the Ewok a try in battle and yes, she's useful when you put good gears on her.