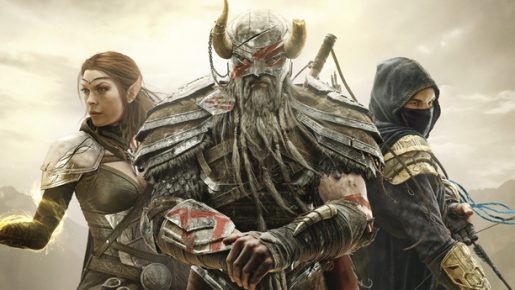 A lot of questions are always going through everyone's mind whether or not The Elder Scrolls Online will really be an MMO or simply just a multiplayer game. In my experience and with the talk with the developers, it really is a multiplayer game and far off from the MMOs we all wanted due to their own take of the game.
One of the things that somewhat disappointed me when talking to them is knowing that there will not be some sort of a raid. When I asked one of the developers, they said that an Elder Scrolls game is not something where you will see big bosses that you need to take down and will require more than four people to defeat. Yes, there will be instances but only with up to four players. When asked whether or not they plan to do raid content in the future, they simply slammed it down and reiterated that the most people you can play with is 4 players in an harder dungeons called instances, however, public dungeons can be as many people as possible, though it will be just be a regular dungeon.
End-Game gear grinding is not possible as well in the game. That means, when you reach level 50, there will not be some sort of a gear that you can get solely for gear grinding. To get the best gear, the developer said that it can be obtained through crafting. That alone simply squashes the hopes that there will be any end-game content of the game. When you do what the game has to offer, which will take you over 150+ hours as promised by Zenimax, you can re-roll to another character. When asked for a possibility whether or not the game will receive expansion, they said most certainly. Squashing the end-game gear pretty much ended all hopes of having end-game content.
PvP wise, they did not reveal a lot. Cyrodiil will be the only place where everyone can PvP. The goal is to become the Emperor and hold it as long as possible. According to the PvP developer, in order to be the Emperor, it will be based in some sort of points, in which he referred to as leaderboard. It seems if you get the most point from the hundreds of people fighting for the Emperor's title, you will be crowned as the mightiest. However, you must hold it, meaning if you log off, you will pass it along to whoever is second on the 'said leaderboard'. As of right now, Cyrodiil is the only place where you can PvP
For Auction Houses, the developer said that there will none in the game. However, the possibility of trading with one another will be there. All selling of the items you will get in the game will not be done in a node where we all call Auction Houses, but instead, you must find someone to do it with via the chat box.
As the game currently stands, Elder Scrolls Online is really catered to Elder Scrolls fans itself and not to the core MMO crowd. The lack of end-game gear grinding and raids will not please a lot of MMO players but with the PvP, it may be something to look forward to when it launches next Spring. Am I disappointed? Not really, as I've expected Elder Scrolls Online as a game that I can play with a few friends.