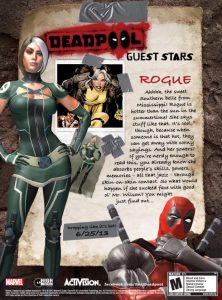 Deadpool isn't one to let others in on his glory. If you recall, he wasn't all too pleased with Wolverine jumping into the game. Now three more Marvel characters are joining the cast, as revealed by Activision earlier today. These familiar ladies are Rogue, Psylocke and Domino. The Merc with a Mouth had this to say about today's announcement:
So when it came to assembling the cast of super-strong heroes and weirdoes that were going to appear in my new game, [Deadpool], from Activision Publishing, Inc. and Marvel Entertainment, I went through binders of men and women (heh …you …you guys remember that? That guy who did that?) to build the most genderfully diverse roster of freaks in spandex you've ever seen. I've recruited some of the most powerful, intelligent, lovely ladies from the Marvelverse for this game: Psylocke. Domino. Wolverine. The list goes on.
You'll be able to enjoy all of Deadpool's fourth wall-breaking humor when the game launches on June 25 on PC, PS3 and Xbox 360.