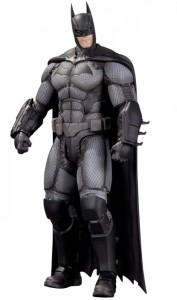 The New York has posted the first images and information on two awesome Batman: Arkham Origins figures that will be available later this year.
The figures that have been revealed include Batman himself and the game's main villain Black Mask. The Batman: Arkham Origins figures will be available in October and will retail for $25. They're 6.75 inches in size.
Batman: Arkham Origins the game itself is released October 25th for the PS3, PC, Xbox 360 and Wii U.
Check out the figurines below: