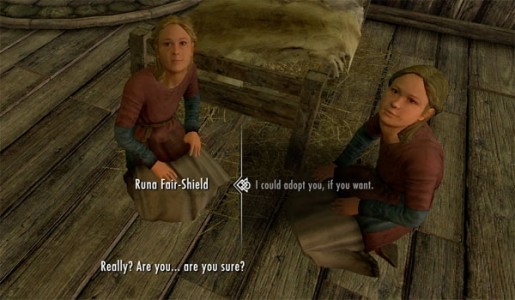 Reasonably Priced
Hearthfire may not add an epic adventure that sees the Dragonborn facing new threats, but at $5, it's hard to expect much more. It may not add a whole lot, but it does allow the creation of your own home and the experience alone is sure to justify the price point for some. Given that this is basically a side activity for invested players to take on, I believe it is correctly priced.
NOT
Limits Creativity
Building a house sounds like a whole lot of fun. Okay, maybe not doing all the hard work in the real world would be all that thrilling, but watching new additions appear before your eyes in-game is still rewarding. However, the DLC's limitations bring down the overall experience. This isn't The Sims 3: Dovahkiin Expansion. You'll quickly learn that you don't have any control over the placement of furniture. You basically are only given the option to choose the type of room you'd like and it appears. That's it. Furthermore, you are limited to three rooms. Since there are three plots of land available, you'd have to buy and build three homes just to see the different types of rooms. This leads to a disappointing "personal" project. Despite being a single player-only game, knowing that all of your friends are essentially building the same house kind of takes out the feeling of originality and a majority of the pride you might have gained from building the house. It's leaves you with a love it/hate it feeling. Sure, you just left your mark in Skyrim's sprawling countrysides, but its a generic mark that many before you have left and many more will leave. Realizing that your home isn't all that original peels away at the illusion of creativity touted by the DLC's marketing videos.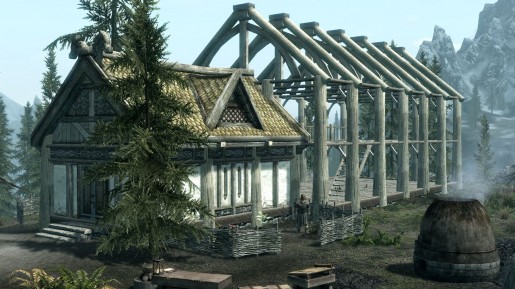 Not for the Adventurer
As I've already stated, Hearthfire is nothing like Dawngaurd and Dragonborn. You will not set out on a life-threatening quest to save the citizens of this troubled land. You will collect wood, build rooms and possibly store a child or two in one of the rooms. The content only has as much depth as the roleplayer wishes it to have. Therefore, those driven by intricate plotline and bloody battles will find little for them here. The most action packed experience on offer may be shouting at a giant in your front yard. If you have no interest in role-playing in your RPG, don't buy this DLC.
Verdict
Skyrim's Hearthfire add-on content is a hit and miss. It all boils down to the type of player holding the controller. Serious roleplayers will find hours of enjoyment living out their days (possibly as a retired Dragonborn) in their home as they look upon their trophies, craft potions, play with their kids and dispatch the occasional uninvited guest. However, roleplayers will not enjoy the limitations the game places upon their creative input. And for the Dragonborn looking to test their blade against the next big baddie, you won't find anything of interest here. At the $5 price point, it's difficult to come down too hard on Hearthfire, but the content's promising basis left me wishing to see and do so much more, even if that experience came at a higher price.
[Editor's Note: Hearthfire was reviewed on the PlayStation 3 platform. The DLC voucher was provided to us by the publisher for review purposes.]
Skyrim: Hearthfire DLC Review

,