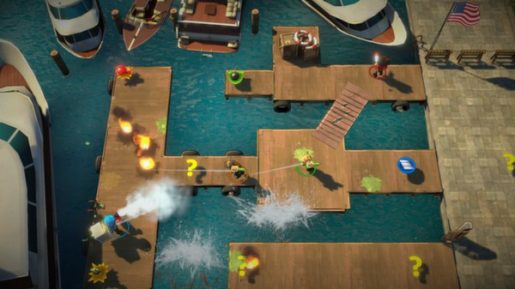 Kalypso Media Digital has revealed today the Dollar Dash "Game Modes" trailer that demonstrates the title's chaotic nature of the game.
Dollar Dash aims to offer gamers a huge amount of customisation and personalisation. All while players attack, defend, and outrun their fellow thieves with comedic tactics to achieve victory. There are three modes for players to enjoy: Save the Safe, Hit' n' Run, and Dollar Dash. Here is an explanation of the different modes from the developer:
Save the Safe, Hit' n' Run, and Dollar Dash. Save the Safe has players vying to hold a safe for a set amount of time while their opponents try to cleverly steal it away to achieve victory. Hit' n' Run plays into an all-out offensive strategy as players attempt to knock each other out. As for Dollar Dash, players must make use of outrageous weapons to grab bags of cash and deposit them in a getaway vehicle before it disappears.
Here's the trailer that shows off the game modes and their chaotic gameplay.
Dollar Dash will be available March 6th; on Xbox Live Arcade for 800 Microsoft Points and PC for £7.99/ €9.99. It will later being heading onto the PlayStation Network on March 20th for £7.99/ €9.99.