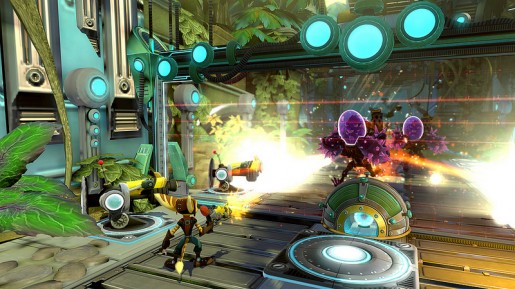 As an apology for the delayed PS Vita version of Ratchet & Clank: Full Frontal Assault (QForce in PAL countries), Sony has announced it will be offering two free games for people that bought the game on the PS3.
The PS Vita version of Full Frontal Assault was meant to be released at the end of January. PS3 owners of the game were entitled to a free download for the PS Vita version but the game was never released. It will now be released in Spring 2013.
As an apology for the delay, Sony will be giving away MotorStorm RC for free. People that bought Full Frontal Assault on PS3 should be receiving an email at the end of this month for a download voucher for the game. You will need to redeem the voucher within 60 days.
Above all that, they will also receive a free download of Ratchet: Gladiator for PS3 when it comes available on the PS Store later this year. Details will be posted later on how to access this content.
Source: PlayStation Blog