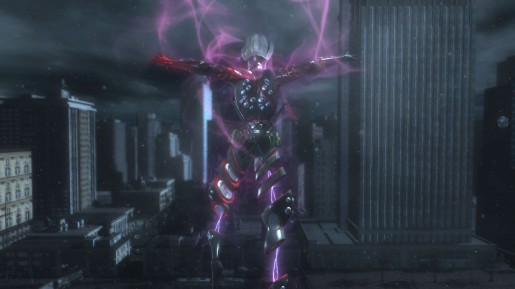 By now you probably think you're a master of Metal Gear Rising: Revengeance, but unlike most of the game, Monsoon requires a lot more skill than other boss. A lot of this will come down to your ability to parry his attacks, but there are a few tricks to make this fight more manageable.
General Tips
When you see a blue outline around your screen, it's a prompt to go blade mode.
Do not rush the quick blade events! Typically you'll have more than enough time to do them, plus rushing them can result in you wasting time/taking damage.
Don't get greedy. Several bosses will take FAR less damage if you don't attack them at the right time, so you're really just putting yourself in harms way.
 General Boss Tips
You can collect items during the blade time event.
If you're having problems winning the blade time event, just activate blade mode and then exit it. This will cause the game to move in real time again and you can freely dodge the vehicles by running.
When Monsoon is glowing purple, you can stun him with an EMP grenade and then zandatsu his head. This will end his auto dodge sequence and is great if you want to avoid drama. When you obtain the Sai side weapon (from Monsoon), you can also use that to stun him out of it.
Most of the his cinematic parts are actually timed out, so keep this in mind. These points are 70% (exactly), 55% (or so), 40% (exactly), 25% (or so), 10% (not exactly, but he generally stops trying). Bringing him to one of these points will void whatever he is doing and will result in a blade time event (1,2,4) or ball event (3,5).
Don't over think this boss.
How to Defeat Monsoon
While there isn't really a secret to defeating Monsoon, he actually comes off harder than he really is. Most of Monsoon's attacks come from above, so you can just parry them by pushing light attack and up. Towards the middle of the fight, you will need to do a blade time event, which shouldn't give you an issue. However I strongly advise you avoid doing the second one, since you can prevent Monsoon from using his cheap dodge the second he touches the ground. This can be performed by throwing an EMP grenade or hitting him with a purple charged sai (unlocks by beating Monsoon, charges automatically) attack. Another thing to watch out for is his smoke bomb attack. If you see him do this move, then just STOP moving. Most of his attacks will come from above, so just stand there and parry everything he does. Once you get Monsoon to low health (30% or so), he will start to roll a giant ball of items at you. Simply stand still and parry it (up + light attack). Doing this twice will let you cut it up and effectively end the move. This should be enough to win the fight, although try to focus on parrying his attacks over preventing them.
Video
Since it seems some people were having problems with this fight, I made a quick video of me doing it. Sadly it's not my most "impressive" run, since I was really quite sick of doing it, but it should show you how to do it.