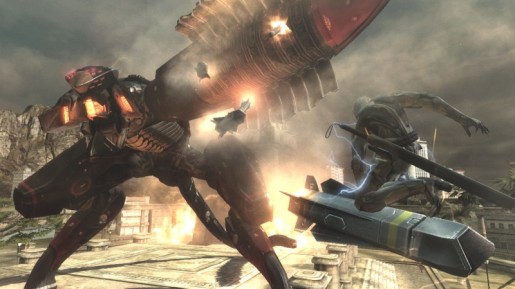 So you're 5 minutes into Rising and bam, Metal Gear Ray appears. This fight can be difficult if you're on a higher difficulty, so we made a quick guide to help you make quick work of this little boss.
General Tips
When you see a blue outline around your screen, it's your prompt to go blade mode.
General Boss Tips
Only Focus on his legs.
Try to keep away from his head.
Cutting the rockets he shoots will give you life.
If you're about to get hit by his dash or laser, remember that you can slide (heavy attack) if you're in ninja run mode.
During phase two you can do an aerial combo to stay in the air longer, which is great for dodging his lasers.
You can cut his tail by parrying his tail attack. (Trophy)
Phase 1
While you might be thinking that you're not ready for Ray, he's actually a fairly simple boss. Start by attacking one of his legs and then perform the blade mode event. This will leave one of his legs exposed, which you want to continue to attack. Once it hits zero life, perform the blade mode event to destroy the legs turret. At this point you want to switch to his other leg, since this will kill him faster. Repeat the above steps to win the fight. For those on a Very Hard or better, I strongly suggest focusing on one leg and slowly chip away at his life. This is a "safer" choice than going for his head, but this method will prevent you from getting a good time / S rank.
Phase 2
Unlike the first phase, the second one follows a standard routine. The typical routine is charge laser, shoots right to left (jump + air combo), shoots left to right, forward bite (constantly run to the other end of the screen), rockets (blade mode cut them, these also drop life), bite from left to right (he will slam his face into the right wall, just stay away), slam down his right arm (same as the bite), distance rockets, forward bite. After this he goes a little off script, though he should be dead at this point anyway.