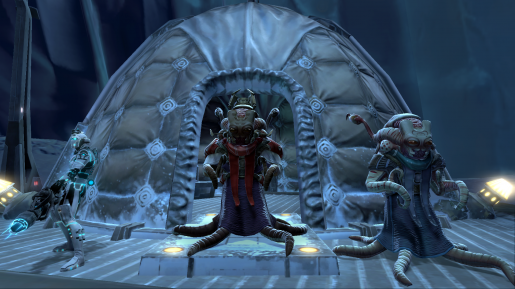 Bioware revealed today that SWTOR will be getting its seventh game update pretty soon.
The seventh update that SWTOR players will be getting is called 'The Return of the Gree' where a recurring event will be available on the planet Ilum. Expect new armors and weapons as level 50 players take down a powerful enemy that awaits in Ilum.
In addition to the new event that occurs throughout the year, a Galactic Reputation system will also be introduced in the new game update. For every missions that you complete, a reputation points will be given and a rank will be awarded based on the amount of points you have. Also, players who have alternate toons will be pleased to hear that the Galactic Reputation will be tied in your character's legacy – that way you can earn ranks across all your characters!
Here are some of the highlights of the new update:
NEW RECURRING EVENT: RELICS OF THE GREE

– Explore Ilum's contested area in the Western Ice Shelf to uncover the mysterious purpose of the Gray Secant, an enormous ancient Gree starship.
– Get ready to face a powerful opponent that awaits you at the center of this ancient vessel.
– Earn exclusive Gree technology, including highly-advanced weapon and armor!
– Look for opportunities to join this recurring event throughout the rest of the year. More details to come!

NEW SYSTEM: GALACTIC REPUTATION

– Check out an all new exciting way to progress your character.
– Advance through six ranks of increasing prestige: "Outsider", "Newcomer", "Friend", "Hero", "Champion", and "Legend".
– Earn Reputation Points by completing missions for allies such as the Gree and the Voss, or for military divisions within the Republic and the Empire.
– Galactic Reputation is tied to your character's Legacy, so enjoy earned Reputation Points and ranks across all characters in your Legacy!