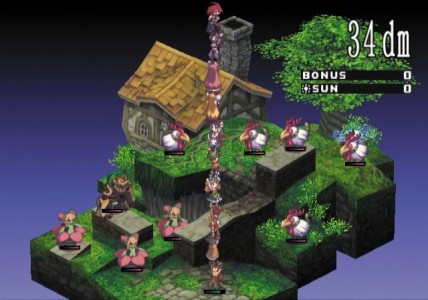 If you happen to not find any more copies of Disgaea 2 on the PS2, consider yourself lucky as NIS America will be porting the game on the PSN this month.
Disgaea 2: Cursed Memories will be available on the PlayStation Network from January 22nd and will retail for $9.99. Those who missed out on the game when it was released almost a decade ago, Disgaea 2 is one of the highly praised strategy RPGs on the PS2. Now new generation of gamers can find out why as it becomes available under PSN's PS2 Classics.
Here's some of the game's unique features:
– Turn Based Strategy RPG with Twists:
Dispatch your units from the base panel wisely, and get them ready for battle! You can also throw an enemy into the base panel, and a battle will begin in the base panel! You can also lift and throw your allies for more strategies!
– Geo Effects: Geo effects are status-altering effects caused by placing geo symbols on special grid panels called geo panels. Unleash the power of geo panels to get an edge in battle!
– Dark Assembly: Make requests like "lower enemy level" and "I want better weapons!" at the Dark Assembly! Bribe your way into getting what you want!
– Item World: Access the Item World from your headquarters. Challenge this almost limitless battleground to power up your weapons and items!