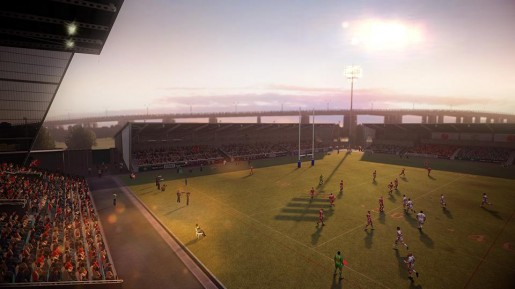 As some of you may have already known, Tru Blu Entertainment released a new patch for Rugby League Live 2 on the PS3 and Xbox 360. What was supposed to improve the game, has inadvertently made it freeze.
Here's what was announced on their official Facebook page:
"Ross and his team at Big Ant are currently investigating the issues raised about the game freeze caused by the patch. We will get back to you as soon as possible!"
If you are annoyed by the game freezing on you all of the time, don't worry as Red Ant is currently addressing the issue.
In the meantime, check out the official patch notes for Rugby League Live 2 below.
-Referee cut scenes have been fixed, will show referee awarding the try
-Referee held up in goal cut scene added
-Custom players can be used in Career mode
-There is more than 16 custom team slots
-Shoulder Charges remain in the game
-Edit Career Mode settings, difficulty, game length, injuries, currency (During career/mid-season)
-"Enhanced AI" option
-Intercept passes bug fixed, no more/less weird glitches with passes
-Player positions are current/correct (i.e. Brent Tate is now a centre, not a winger)
-Representative team selections are more realistic without strange picks in the team
-Custom teams can be replaced in Career mode, instead of using default NRL team (press triangle when picking team to replace)
-Replace all 16 teams in Career mode with ANY custom team
-Man of the Match points are calculated / weighted differently. Also brought in some more factors which will also affect Dally M / Man of Steel.
-Edit Career Player data. You can change age, All -Star/Indigenous Eligibility, State of Origin Eligibility, City/Country Eligibility & National Eligibility.
-"Intercepts change" can now be turned OFF in the game settings (More information to come)
-"No Name' can be used as the commentary name for your custom player
-Improved injury rate, players will be more injury prone on 'extreme' injury game setting