The characters in Final Fantasy XIII each have a respective Eidolon. Eidolons are the game's summoning monsters and appear in the story once a certain character loses their focus. They are a beacon of hope for the characters so to speak. Before you are able to summon an Eidolon it must first gain the users' trust. The only way to do that is by beating it!
There are six Eidolons in all and Just Push Start has created a guide for you to best beat these bosses. All you need to beat them is to use a bit of strategy and the right class combination. If you are struggling to beat one of the Eidolons then don't worry we have you covered.
SHIVA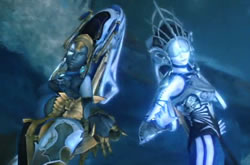 Character: Snow
Chapter: 03
Strategy: In order to impress Shiva, switch the Paradigm Shift to Sentinel. Have Snow use Steel Guard all the time and wait for the Gestalt Meter to fill up. Don't worry about your health because Striria (Sister of Nix) will heal you.
ODIN
Character: Lightning
Chapter: 04
Strategy: This is one of the hardest fights you will encounter so far as Odin is fast and deadly. Before entering the battle, make sure that you changed your Battle Speed under Settings to Slow. The key to fill up the Gestalt Meter fast is when Odin sees a lot of healing and chaining up your attacks. Start off with Hope casting Protect and Shell then change the Paradigm Shift to Dual Casting allowing both Lightning and Hope cast magics. When you see one of your characters HP is low, switch to Yin & Yang Paradigm to allow Hope heal Lightning while she's still attacking with a magic.
BRYNHILDR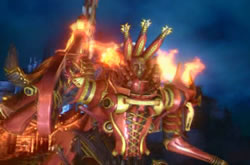 Character: Sahz
Chapter: 08
Strategy: Start off by having the characters switch their Paradigm to Saboteur and Synergiest. Have either of the two cast Vigilance and Haste. If the HP runs low on either of the characters, change the Paradigm to War & Peace to have one of the characters use Cura or Cure. The main key to this battle is to chain up the Chain Gauge. Do it by always focusing on Dual Casting Paradigm to have both characters attack with magic (Ravager).
BAHAMUT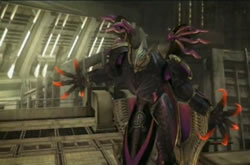 Character: Fang
Chapter: 10
Strategy: Making a pact with Bahamut is a very challenging one as it attacks rampantly. Focus on the health of your party. I suggest to have someone in your party cast Shell and Protect to lessen the damage that you get from Bahamut. Start off by debuffing Bahamut. Have one of your party be a Sentinel (preferably Fang) and the two becomes a Ravager. Keep on attacking Bahamut until the Gestalt Gault fills up.
ALEXANDER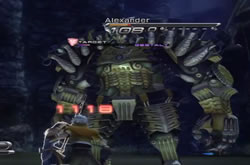 Character: Hope
Chapter: 11
Strategy: Make sure Hope has a lot of HP by this time as he will be the Party leader. Start off the battle with Alexander by shifting to Delta Attack Paradigm. Have Fang be the Sentinel while Hope and Lightning do the attack. When you see the party's HP drop significantly, switch to Combat Clinic Paradigm to do the healing. Keep on doing it this until the Gestalt Meter fills up.
HECATONCHEIR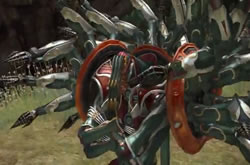 Character: Vanille
Chapter: 11
Strategy: With only Vanille and Fang fighting this Eidolon Battle, it can be tough. Start off the fight by having Vanille be the Ravanger and Fang be the Sentinel. Keep attacking Hecatoncheir with Vanille's Magic and watch his Chain Gauge goes up. When the HP runs low, change to a Medic Paradigm and have Vanille heal and switch back to the first strategy. Keep on doing this and the Gestalt Meter will go up.
Final Fantasy XIII Eidolon Battle Strategy Detailed

,