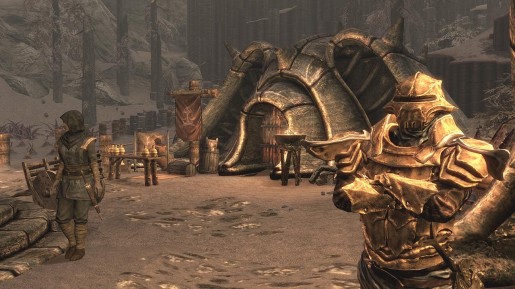 Bethesda is already working away on the next expansion pack for Skyrim and now they've passed on some fresh details and new screenshots. Dragonborn, as the DLC is called, will pit your Dragonborn against the very first Dragonborn, a battle which will take place on the island of Solstheim. It's an adventure that is sure to be exciting, and one that we have pictures of for you to view below:
Now that you're done enjoying the collection of images, how would you like some brand new details regarding the Dragonborn DLC? Read on!
• Explore Beyond Skyrim – Leave the province of Skyrim and travel to the coastal island of Solstheim. Encounter the Dark Elven settlers of Raven Rock and the native Skaal, as you unravel the mystery of a Dragonborn's return.
• Become the Ultimate Dragonborn – Harness the power of the Voice as you face off against the first Dragonborn. Wield new shouts and spells including Dragon Aspect – allowing you to summon the inner power of a dragon to deliver colossal blows and strengthen other shouts.
• New Powers – Discover dark powers as you journey into a new Daedric realm. Collect books of forbidden knowledge and choose new paths for your skills and abilities.
• New dungeons, creatures, weapons, and more – Suit up in Bonemold and Chitin armors and wield Stalhrim weapons as you navigate through a myriad of dungeons. Battle formidable foes like Ash Spawn, Rieklings, and more.
Skyrim: Dragonborn will be available on Xbox Live on December 4th.