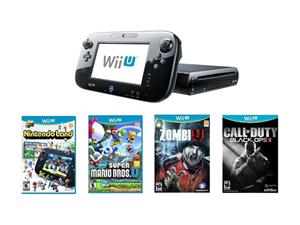 With the Nintendo Wii U set to release this Sunday, several gamers are trying to score the system at the last minute. With just about every place sold out it seemed hopeless, but if you don't mind spending a little more money, Newegg currently has them in stock. However, you have to purchase a bundle to actually get the system.
Currently Newegg has 2 different bundles for you to choose from, but the choice comes down to wanting the deluxe system or standard system. The first bundle is the standard Nintendo Wii U, Nintendo Land, New Super Mario Bros. U and Zombi U for $479 + shipping. For those looking to get the deluxe system, it comes with Nintendo Land (naturally), New Super Mario Bros. U, Zombi U and Black Ops 2 for $529 + shipping. While neither system is a killer deal, since you're paying MSRP for everything, you do save a few bucks on tax. When you combine this with the fact you don't need to locate one / wait in line for one, it might be worth getting a game you might not want to avoid it.
Update 1: Deluxe is out of stock.