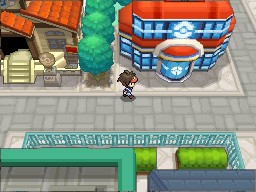 Compatible with Pokemon Dream Radar
Those who purchased the 3DS eShop title called Pokemon Dream Radar will be pleased to know that they are able to use it with Black and White version 2 to get some Pokemon. Since Pokemon Dream Radar is an AR game that allows you to catch Pokemon in the real world, those who have a Pokemon in their collection will be able to transfer it over to Black and White version 2. The steps are quite simple and easy for everyone to learn.
Improved Animations
We've seen Pokemon games evolve from simple statue sprites to ones that move. In Pokemon Black and White version 2, the Pokemon in every battle will be somewhat active. Instead of just standing there like a statue, the Pokemon now move, making it more realistic. The animation within the game are solid but not ground breaking. New animations are to be expected when it comes to some elemental attacks as well. In terms of visuals, it hasn't changed much, but it's nice to see that there are new areas to explore to change up the scenery.
More Pokemon to Catch
The main objective of every Pokemon game is "gotta catch 'em all". In every Pokemon game, you have a certain amount of Pokemon that you can catch and record on your PokeDex. This time in Black and White version 2, you are looking at around 300 Pokemon that you can catch. Expect new Legendary Pokemon to appear in either versions and new Pokemon with their new evolutions where you can fuse Reshiram and Zekram with Kyurem. If you love collecting Pokemon and filling that PokeDex up, you will enjoy Black and White version 2.
NOT
Same Old Game
Stripping out the new features it has, Pokemon Black and White version 2 is the same old game that you have played. From start to finish, you will do the same thing you already did for the past ten years in all Pokemon games. If you don't care about the new Pokemon World Tournament or the PokeStar Studio, Black and White version 2 will feel like nothing has changed, and you may find the new additions are not enough to make the game feel fresh. Catching Pokemon, battling trainers and becoming the Pokemon Master round out the same formula we've seen for several years now. It all comes down to how much the changes, big and small, affect your perception of the game.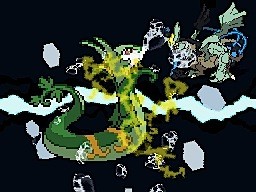 Narrative is Not compelling
While Pokemon and Black Version 2 offers a brand new storyline, I find it dull and not compelling compared to the first Black and White version. Despite GameFreak's improvements, it still fails to outshine the greatness of the first Black and White version. The pacing is still slow and the narrative this time is not as interesting. The new areas and locations serve as a more engaging element.
VERDICT
For truly hardcore Pokemon fans, Black and White Version 2 is something you will undoubtedly be picking up as the new features included — Pokemon World Tournament, an all new Unvova region and PokeStar Studios — are easy to appreciate and love. However, the same dull and repetitive formula that was found in previous games still exist in the game, revolving around the same basic concept: catch Pokemon and become the Pokemon Master. If you are among the people that find Pokemon games to be all too similar (the same old formula we've seen since Pokemon Yellow), then there will be no reason for you to get this game. Overall, Pokemon Black and White version 2 has some solid new additions, but it's not big enough to make it all better. The fact is that I found the first Black and White version to be better. That aside, Pokemon Black and White version 2 still manages to be an entertaining game that long-time Pokemon fans are going to have a hard time passing up.
[Editor's Note: Pokemon Black Version 2 was reviewed on the Nintendo 3DS platform. The game was provided to us by the publisher for review purposes.]
Pokemon Black & White Version 2 Review

,