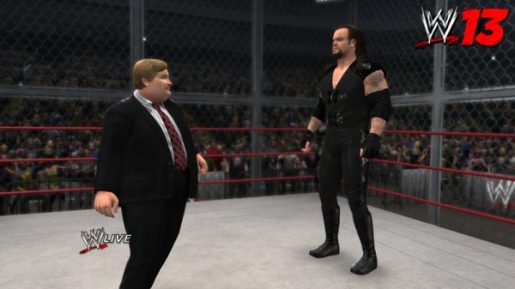 WWE '13 just came out and I was playing through the Attitude Era mode. One objective in the game is to KO Paul Bearer in under 1 minute while being The Undertaker. Believe it or not, this is a hard task to do, so here's some tips for you to knock him out quickly.
It took me more than 5 (or so) turns to finally knock him out in under one minute. Some advice I can give to other players is to not use any strong grapples on him as this is too time consuming. Nor should you go out and use a weapon because you will lose extra time in doing this as well.
Here's what I did to get the job done:
-Punch him heaps. Undertaker has a lot of powerful strikes that can wear down Paul Bearer. His strikes are fast and you won't lose too much time in executing them.
-Do a lot of running DDTs. Most people like to use this move while they're playing online and it's a great effective move to wear down Paul Bearer in this situation too. Much like the punches and strikes, it's a fast move to do.
-Kick him in the corner of the turnbuckles and stomp on him heaps. Believe it or not, this is how I managed to finally KO Paul Bearer. Kicking him in the corner is a great way to finally finish him off.
-Lower the difficulty to easy mode if you haven't done so already if this is giving you a headache!
If you have any other advice, feel free to comment below. This task is mandatory in order for you to progress further into the Attitude Era mode. It is the first chapter in the "Brother's of Destruction" storyline.