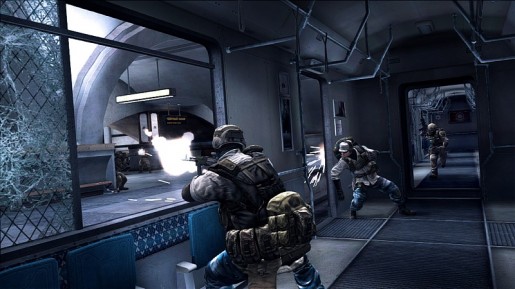 Early last month, Just Push Start's own Richard Subia noticed that Ghost Recon: Future Soldier's 1.03 patch revealed the upcoming Khyber Strike DLC. Now, Ubisoft is ready to divulge more details regarding the next expansion.
Khyber Strike packs new multiplayer maps, a new mode, a new Guerrilla map, new achievements and an increase in the level cap. Below you'll find a detailed description of the three new maps:
Switchback: Step off the main road leading down into the city and into a maze of ancient buildings and narrow alleys. The twists and turns of the alleyways turn every corner into a close-quarters deathtrap.
Palace: There's no time for reflection even in this magnificent relic. What once was a museum dedicated to showing the glories of the past is now a battlefield, with a massive courtyard at the heart of its contested ground.
Transit: A Moscow metro station makes for close quarters and close-range combat. Trains pulling into and out of the station add to the danger as Ghosts and Bodark slug it out underground.

The new multiplayer mode, Takeover, adds an interesting score-based option. Enemy kills earn points, as usual, but the depth comes from taking over enemy objectives. By seizing the opponent's objective, a multiplier will be added to the entire team, making each kill worth even more. Obviously, this works both ways, so you'll have to play smart, figuring out how to divide up your team for the best results. The team with the most points at the end wins.
Lastly, there's "Village", the newest addition to Guerrilla Mode:
A peaceful country village finds itself transformed into a battleground, as fighting rages around its central bus station. Long alleyways that run between war-damaged buildings make a perfect hunting ground for snipers, and a shootout near the town's gas station could turn explosive.
Khyber Strike will be available on XBL and PSN on October 9th for $9.99/800 MSP.