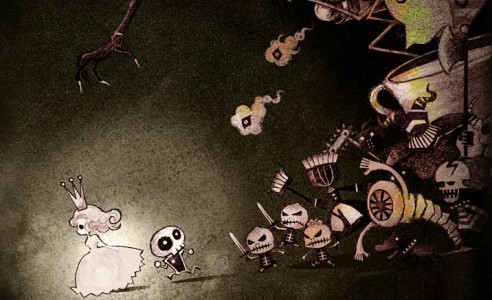 Back when the Vita launched we saw a vast selection of genres. These ranged from fighting to shooters to even RPGs, but there has been a lack of puzzle games. However this is about to change with Dokuro, which combines unique art with puzzle/platform gameplay. While these elements usually go well together, will that be the case for Dokuro or is it a disappointing mess?
Lets check out what's HOT and what's NOT in our review of Dokuro.
HOT
Almost 150 Puzzles
At first glance Dokuro feels like a short game, but there are more than enough puzzles to stump anyone. While the first 20 or so are very simple, some later puzzles can stump you for hours. For instance you might need to stand a box off the edge of another or creatively use bombs to your advantage. These are all supported by a vast array of unique elements.
Changes the Formula Often
As you progress through Dokuro you will need to adapt to new elements and situations. These can range from inverting the world, dealing with water, metal heating up, plus much more. Due to this many puzzles will require some planning, in addition to keeping the game fresh. Beyond simply adding new elements, there are also abilities called chalk.
Since Dokuro has a chalky look, the game is also changed by the use of chalk. These are used by simply drawing on your screen from point A to B. This comes in handy as each chalk has it's own special ability. The first chalk allows you to reattach items, so if you see a rock and some ropes you can attach the two. Another chalk is red, which works similar to a fuse. Drawing from a flame you can light a torch or set a bomb to explode. Finally you have blue and that simply allows you to summon water. Sadly white / blue are under utilized, but this is due to the game branching out beyond puzzles.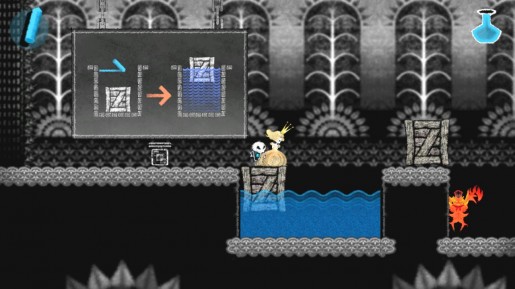 Every now and then there will be a boss stage, which combines puzzles with combat. These can range from reading attacks to simply moving a box. These can be a fun change of pace as they're more about understanding your enemy. Besides simply fighting bosses, some stages are more combat based than others and some break the mold completely. One of these stages requires you to lift the princess and ride a conveyer belt through a number of presses. This one can get very frustrating, but it branches out beyond simply moving stuff around. Finally towards the end of the game you no longer need to guide the princess, so you can expect a lot of diversity throughout.
Chalk Look
The one thing that attracted me to Dokuro is how it looks. Similar to Okami exciting fans for the Sumi-e look, Dokuro looks like it was drawn on a chalkboard. It's a really interesting art style and some of the cutscenes are quite impressive looking. Thankfully the game also works similar to chalk too. As mentioned earlier your powers are all in the form of chalk and one of the deadliest elements is water. While you won't wash away for touching it, you will drown if you're not tall enough to breathe.
Dokuro Review

,