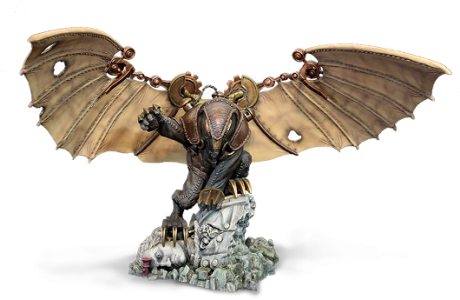 Irrational Games is pleased to reveal today that Bioshock Infinite will be receiving two special edition bundles when it comes out early next year on the consoles and PC.
Scheduled for release early next year, fans who are looking for the most expensive edition of Bioshock Infinite should look forward to Ultimate Songbird Edition as it includes a 9.75 inch statue pictured above, designed by Irrational concept artist Robb Waters, and all contents in the Premium Edition.
Those who are seeking for the least expensive ones should settle with the Premium Edition and it will include the following goodies:
–A 3-inch baby version keychain of the sold-out Murder of Crows vigor bottle replica.
–A 5 x 7-inch lithograph by Jorge Lacera.
–A 25 millimeter, resin-cast Handyman miniature from the upcoming BioShock Infinite board game by Plaid Hat Games, makers of Summoner Wars.
–A mini art book, full of BioShock Infinite concept art and commentary, with a hand-distressed cover.
–Various digital goodies: exclusive in-game gear, a digital soundtrack, and platform specific downloadable content (Avatars for Xbox LIVE, and Themes for PC and PlayStation 3).
As for its prices, the Premium Edition will retail at $79.99 while the Ultimate Songbird will carry the huge price tag of $149.99. Take note that the Ultimate Songbird Edition will be available at a very limited quantities. If you are willing to spend $149.99 to get that statue, you can now pre-order it starting October 22nd.