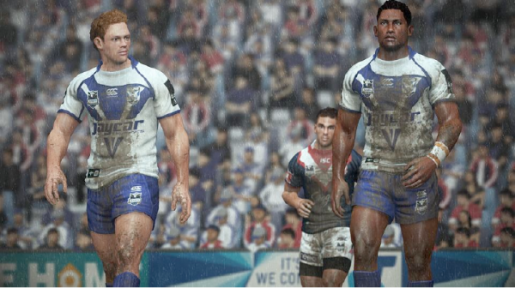 Tru Blu has posted on its official Facebook page many new details about Rugby League Live 2 via a Q&A session.
The following answers were given by Red Ant and some of Tru Blu's QA team. If you want to read about more details about the game, you may want read on. There's still no release date for the game which is still the most asked question from fans…
Check out the Q&A session below:
Q: If you're playing the franchise mode, can you get signed to other clubs? And can you buy players from NSW cup and super league and bring them into the NRL side?
A: The Career mode has you taking control of an NRL or Superleague teams for 10 years, with representative affiliation teams such as SOO or Australia. As you progress through seasons you will be able to sign players from any available league including NSW Cup, or UK Championship sides.
Q: Is there going to be the actual QLD and NSW players?
A: Yes, both leagues' players are fully represented and each has their own competition mode to play.
Q: Can we edit current rosters, both changing player's teams and ratings?
A: All teams' rosters and player attributes are editable and you are even able to add custom players you've created yourself to squads and then play with them online or in competition or casual mode.
Q: Will the crowds be bigger and smaller depending on the way the team is performing?
A: Within career mode, stadium size will be dictated by the teams' progress within each season, so yes, grounds will be full or partially empty depending on how you are progressing.
Q: What has been done to customize game play experience in terms of "game sliders"?
A: The game does not specifically have game sliders however, we have included a mode called Footy Factory which allows for custom created and existing players to have an array of attributes adjusted to tailor your experience, as well as allowing you to freely move players around clubs and then play in competitions locally or against friends online.
Q: When you say the NSW & QLD cup and Toyota are in the game does that mean we get to take control of them during the Career mode and select the teams and bring players up through them to first grade?
A: For this iteration we haven't introduced a "be a pro" mode. A lot of additional content has been added, even to the degree of playing career mode matches cooperatively online with a friend.
NSW, QLD and Toyota Cup have there own competition mode where you can play as teams in those leagues and also players from those clubs can be signed to your NRL or even Superleague team while playing Career mode.
Q: Will we have official crowd chants?
A: We don't' have official chants, we have though spent a lot of time on crowd sound effects and also a lot of time on improving the commentary for the game, we feel the commentary really stands out over previous versions.
Q: Has there been more effort put in to the English super league players faces?
A: If you are asking about detail ,the Superleague team players have had a similar attention to detail as NRL, with Superstar players getting added art time across the board. If you are asking about player likeness, this is not covered by our Superleague agreement.
Q: Will there be unlock able teams? Example team of the century and greatest NSW and QLD teams.
A: There are no unlockable teams in the game, all 100+ licensed teams are available for play right from the start however, there are multiple challenging achievement trophies to unlock.
Q: And of course lastly, the most popular question, the release date.
A: This was by far the number one question, we will address this in a separate post at another time.