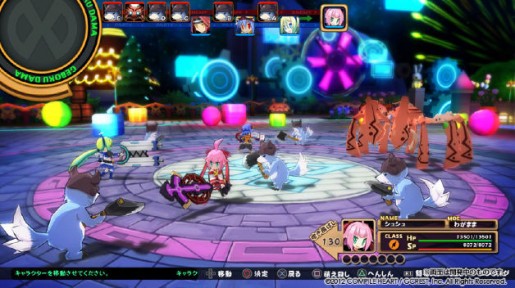 NOT
Story is boring and predictable
At the start Mugen Souls seems like a pretty cool game. You play as the mysterious Chou Chou who has the curious ability to make people into her peons (or bitch if you prefer). She hopes to use this ability to conquer the universe and with Ryuto (ship captain) / Altis (demon turned angel) help; she just might just do that. However it's quickly revealed that she has no actual plan, so they decide to make the worlds hero and demon lord into her peons. This is about where the story begins, though you will quickly lose interest in it.
This in a large part is due to the games opening, which contains a number of spoilers. These include who the "villain" is, who the hero / demon lords are, what ships you will encounter and much more. Even if you don't watch the games opening, you should quickly realize that only important characters get a design. Naturally this kills any shock in the hero / demon lord being revealed and makes the progression fell hollow. Even without the spoilers the game is pretty predictable too.
As you complete each of the seven worlds, every hero / demon lord will have their own little side stories. Fans of Neptunia will most likely enjoy them, as they're basically satire of the typical hero formula. At some point in the story you will need to connect the islands to continue, newer members will be surprised, but this is really about it. Every world follows this pattern, so you can expect it throughout.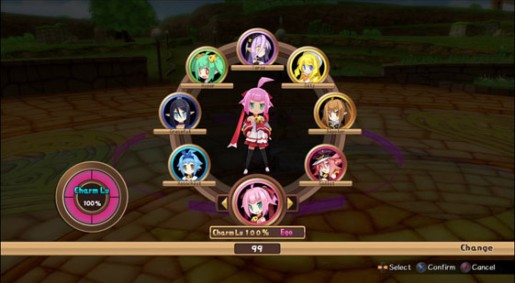 Moe Kill
One of the unique elements of Mugen Souls, is the ability to Moe Kill an enemy. These are performed by changing Chou Chou to the right personality (Moe) and answering a series of questions correctly. If you answer them correctly the monster will become a peon, but if you piss him off he will go into frenzy, which is basically an angered state with more power than normal. While it's certainly an interesting concept, it takes a LOT of trial and error to understand. Since you need to Moe Kill master points to progress in the story, this can get annoying, though the game at least gives you hints for that.
LAG!
For a game as simple as Mugen Souls is, there are some serious loading problems. It's not uncommon to wait ten or more seconds for a fight to begin and an additional five seconds for the first couple of attacks. Worst yet, these times are with attacks turned off and the optional data install applied. Sadly this really makes the combat system feel tedious, but thankfully you can plan ahead to make the fight go faster. Another option is to power level your team in the Mugen Field, so you can quickly dominate story enemies.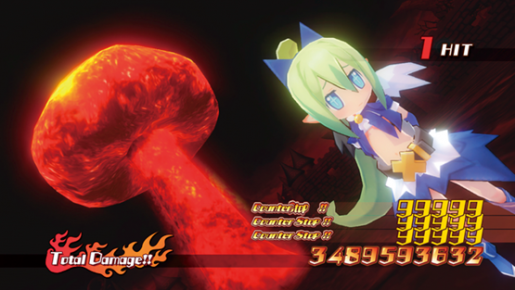 Not Suitable for Children
Similar to Conkers Bad Fur day (not as bad), the design of Mugen Souls looks very child friendly. This is an easy mistake to make, as the game has a lot of adult themes and is almost impossible to finish without understanding adult relationships. For instance one of the master point Moe Kill clues was "bring the whips, chains and candle wax". To an adult this obviously points to the dominate persona (Sadist) or the submissive one (Masochist), but a child would be in the dark. Besides the importance in the Moe Kill system, there are a number of cutscenes based off these innuendos. Obviously everyone is different, but I certainly believe many parents will be turned off by these elements.
VERDICT
While Mugen Souls suffers from some lags problems, the game is still pretty fun. Most of the characters attacks are enjoyable to watch and Mugen Field will keep you on your toes. While the Moe stuff might not appeal to you, there is always the option to simply skip it for the most part. In the end Mugen Souls will certainly appeal to fans, but also offer something for new comers too.
[Editor's Note: Mugen Souls was reviewed on the PS3. The game was provided to us by the publisher for review purposes.]
Mugen Souls Review

,