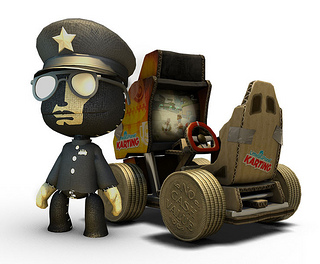 New bonuses have just been revealed for North American consumers who pre-order LittleBigPlanet Karting. These two new packs are on top of the original Kevin Butler costume and custom Kart to accompany him. Today, two new packs come to be, though one was already announced for European users a month or so ago.
Now, when you pre-order LittleBigPlanet Karting, you will be able to snag not only the Kevin Butler combo, but also a new kart combo, as well as an early access pack. The kart combo is shown above, and represents the United Front Games (the developer) man, and his arcade cart. As for the early access pack, this will allow you to "unlock over 900 items – karts, costumes, materials, and music – as soon as you boot up the game."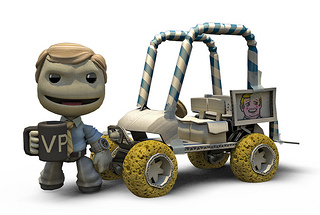 Do note, that these two newly revealed bonuses will be exclusive to Gamestop. While they may be available on the Playstation Store at a later date, this will be the only option for now. Now for anyone who has already pre-ordered the game at Gamestop, you will get access to not only Kevin Butler, but also the two new bonuses.