There have been a number of HD re-releases lately with a lot of PS2 games receiving the HD makeover. Activision went for a different approach and decided to remake its PSOne Tony Hawk games from scratch much like 343 Industries did with the first Halo game. Robomodo has been tasked to makeover the games that were made famous by Neversoft back in the late '90s and early '00s. Have they been able to do a good job with it?
Find out as we take a look at what is HOT and what is NOT in our review of Tony Hawk's Pro Skater HD.
HOTs
The Same Classic Tony Hawk Gameplay
Much like most people do, I often go to the options menu first to check out the control scheme for a game before I start playing it. Since I have played the first four Tony Hawk video games to death, I decided to just boot the game up and see if Robomodo made any changes to the gameplay many fans have cherished over the years.
Thankfully, Robomodo made minimal changes to the controls and gameplay in Tony Hawk's Pro Skater HD that most veterans will be able to bust out killer combos in a matter of seconds. This is not the atrocious motion style gameplay we from Tony Hawk Shred nor is it the simulated type of gameplay seen in EA's Skate series. The gameplay is pretty much exactly the same style fans loved from the first two games.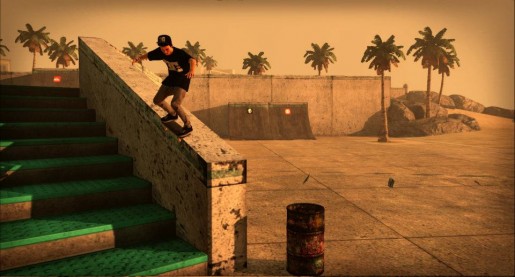 Redesigned Levels Look Great
The PSOne and N64 versions of the first two Tony Hawk games look atrocious and haven't aged very well. I booted up my old copy of Tony Hawk's Pro Skater 2 just to compare and I'm not sure how I played the game all those years ago. The character models lacked any facial features and there was distance fog in each level. Distance fog was all but non-existent once the PS2/Xbox 360 came out but it was a common and unwanted feature in many PSOne/N64 games..
Looking at the levels for the first time in HD will bring back great memories for veteran Tony Hawk fans. The first game's "Mall" level and "Downhill Jam" has received the biggest makeovers and are arguably the best looking levels in this new makeover. Some of the Tony Hawk's Pro Skater 2 levels such as the "School" and "The Hangar" look great as well. There are even some slight changes to some of the other levels that you may have not seen from the original versions.
Half of the Original Soundtrack is Retained
I was afraid that this new game would have all new songs. Not that having new songs is a bad thing, but the original Tony Hawk games had a classic soundtrack that many fans still love to listen to till this day. Although Crazy Taxi's re-release had some pretty decent songs, none of them were featured in the original game and many gamers were disappointed about this. The same mistake is not present here as it's great to be listening to the likes of Goldfinger's "Superman" and Millencollin's "No Cigar" in 2012. Some of the newer songs featured here don't rub me the right way, although 360 owners have the option of playing their own soundtrack so you can always play the Tony Hawk songs that didn't make the cut this time around…
New Game Modes Are Fun
Tony Hawk's Pro Skater HD adds two fun new games called Hawkman and Big Head Survival. Hawkman is a fun little game that requires you to collects as many coins littered throughout the levels. Coins are in different colors and you need to do a special trick to collect each one. Red coins are collected by doing air tricks, green coins are for manuals and yellow coins are collected by grinding through them. It's quite hard to do at first, but once you get the hang of things it can get deviously addictive.
Big Head Survival is my personal new favorite feature from this remake. You have to complete combos before your head grows big and explodes – yes you read that correctly! I remember laughing very hard the first time I saw Tony Hawk's head explode.
Tony Hawk's Pro Skater HD Review

,