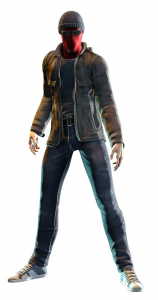 If you've been playing the Amazing Spiderman on the Playstation 3 lately, and have been looking to cruise around the city in some sweet new stylish threads, we've got you covered.
Currently Sony is running a promotion with Carls Jr. similar to what they have done in the past with Subway, and this time it is for the Amazing Spiderman on PS3. Below, we will give you steps on how to get the Vigilante costume, pictured above.
First, go to THIS LINK to get five (5) free codes without needing to go to Carls Jr. or do anything extra. Fill out the page with the info that it asks for, and your codes will be sent to you shortly, via the email that you provided.
Next, open up the email that they send you, and copy/paste the codes into THIS PAGE (make sure to enter your email first to begin the process).
From there, watch the video and wait for the site to inform you if you are an instant winner. I personally got the Vigilante costume on my second code, but it may vary.